Welch Predicts Low GDP For Q3 And Hurting Workforce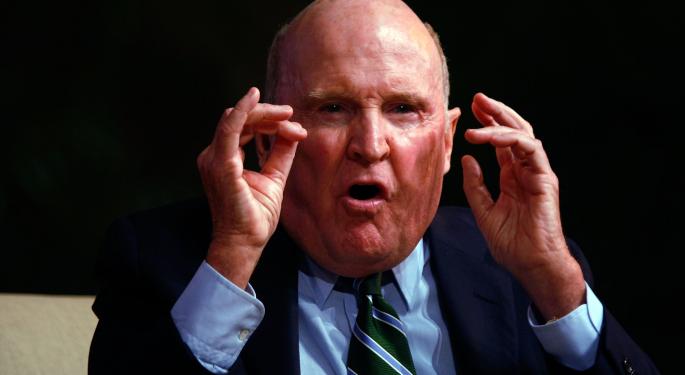 Jack Welch, Jack Welch Management Institute executive chairman and former chairman and CEO of General Electric (NYSE: GE) was Friday morning's guest host on CNBC's Squawk Box.
Currently, he sees an uneven economy that's bogged down by government, and according to Welch, the Affordable Care Act will effect the United States workforces negatively.
"When you sit around a table and listen to the cost of Obamacare in terms of the 26-year, just take one element, the 26-year old issue. It ranges from $2-7 million per company. Now,when they take that, what do you think they do to get the $2-7 million back? They look at layoffs, cuts, et cetera," said Welch. 
"So when you have these cost go in, there are consequences. Obamacare is just another cost. So now how do you deal with that cost? You deal with it through the ways of attrition and productivity that you look for. So the people that -- the 30 hour week thing -- that just cost people jobs." 
Welch suggested that employers won't feel the hit, where their workforce will, and significantly.
Related: The Shutdown And Presidency Power With Jack Welch
He also listed his reasons for why the economy isn't booming, and now it is in many ways suppressed by government.  
"A government that truly comes to work. I've told you this before, that agency after agency comes to work without an attitude of 'Get the bastards', but 'How do we help them grow?'. That will change it," said Welch.
"You'll get EPA, you'll get labor, you'll get all of these agencies working towards making this economy great versus 'Get the bastards, control them, regulate 'em, do this to 'em'. We're strangling it. I mean, that's just a reality." 
Welch said that the main issue is that an administration is in place that frankly dislikes business. He stated that if that's the attitude, you'll get the bastards, but you won't grow the economy 
He does like certain areas of activity, which he called "micro pockets" in the economy like autos and some oil-related business.
"Autos are good, ah, oil-related businesses are good, cities are good. I mean, Boston is redoing the whole waterfront and you -- it looks like a construction site, the whole waterfront is huge," said Welch.
"So there are pockets of activity in this economy that are strong." 
Welch picked out a low GDP while making predictions, saying that it'll be around one and a half to two percent for Q3.
At the time of this writing, Jason Cunningham had no position with the mentioned entities. Visit Jason on Twitter @JasonCunningham.
View Comments and Join the Discussion!
Posted-In: News Bonds Futures Commodities Movers & Shakers Politics Econ #s Economics Best of Benzinga