The Top 10 Financial Tweets For Tuesday, August 27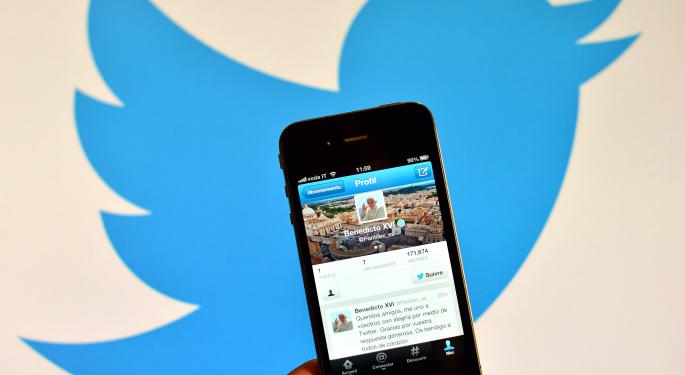 There are millions of tweets written every day. Benzinga sifts through the maelstrom of information to find the ten best tweets of the day that are either informative, insightful or just down right comical.
1. CNBC
CNBC ( @CNBC ) tweeted out this morning that APPLE (NASDAQ: AAPL ) plans to unveil not two but three iPhones. You'll see the iPhone 5S, the upgraded iPhone 5, and a mysterious cheaper iPhone 5C.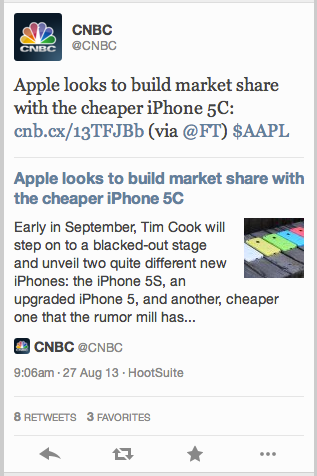 2. CNNMoney.com
CNNMoney.com, ( @CNNMoney ) tweeted out that a mini housing boom continues on across the U.S. Take this data with a grain of salt since the growth is slowing as impending home sales cast a shadow on the market.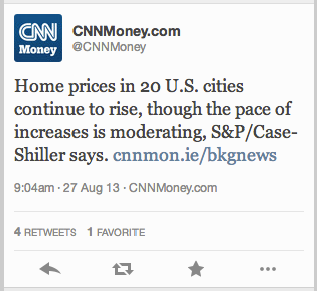 3. J.C. Parets
J.C. Parets ( @allstarcharts ) founder and president of Eagle Bay Capital, tweeted out a great chart about the divergence of stocks and bonds. Could this be another sign that a normal correction is underway in the bond market?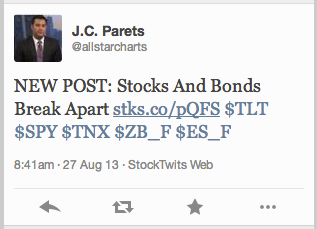 4. Dennis Dick
The latest market uncertainty catalyst: Syria talks. Dennis Dick ( @TripleDTrader ) proprietary trader and market structure consultant with Bright Trading LLC, tweeted out a video this morning that shows markets sinking on Syria talk as some make the run for safety.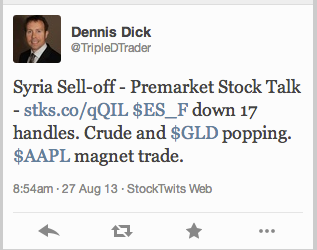 5. Bloomberg TV India
Bloomberg TV India ( @BloombergTVInd ), tweeted out that the ECB has had enough. No more free $300 million lunches for them…maybe just $20 million worth.


6. MarketWatch
MarketWatch ( @MarketWatch ) tweeted out that while announcing that your CEO is leaving in a year could be a good strategy for boosting share prices, it still doesn't solve Microsoft's (NASDAQ: MSFT ) underlying issues.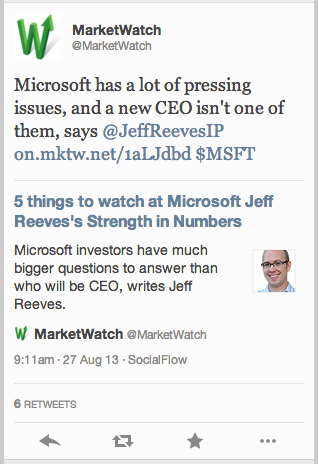 7. Financial Times
Financial Times ( @FinancialTimes) tweeted out that submerging markets keep on sinking with India as the heaviest weight. Neighboring nations are all pushing in the same direction: downward.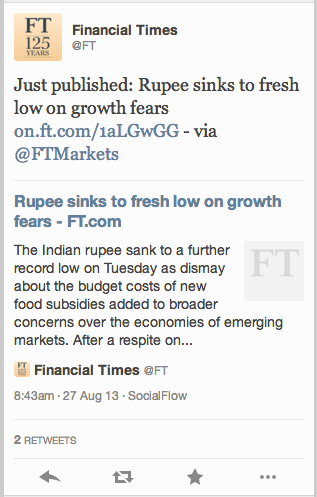 8. Justin Wolfers
Justin Wolfers ( @justinwolfers ) professor at the University of Michigan and columnist at Bloomberg View, tweeted out a chart that should have everyone concerned. Looks like just talks about the debt ceiling are on par with the financial crisis of 2008 when it comes to consumer confidence.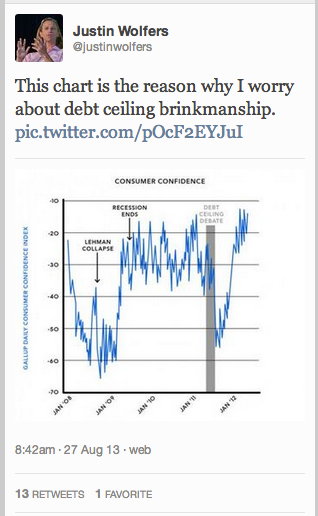 9. Matt Nesto
Matt Nesto ( @MattNesto ), writer at Yahoo! Finance, tweeted out an article about the potential delay of taper doomsday. The timing could be determined entirely by the data Bernanke wants, not the Wall Street rumor mill.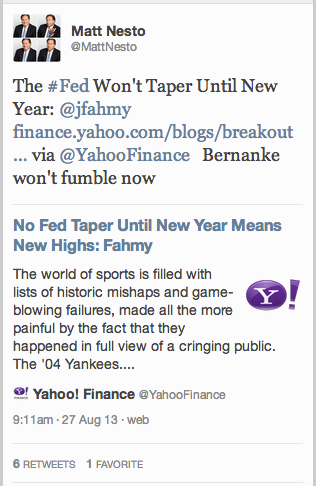 10. Wall Street Journal
On-air stocks editor and trader talk blogger, Wall Street Journal ( @WSJ ), tweeted out that Ackman is done playing his games with J.C. Penney (NYSE: JCP ). Consecutive losses can be quite discouraging.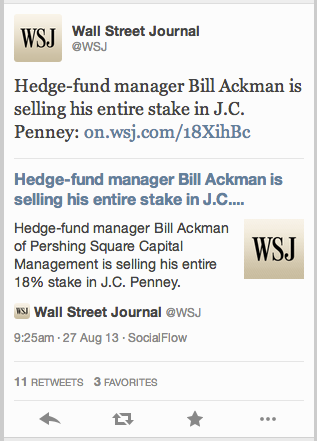 Posted-In: News Bonds Emerging Markets Eurozone Rumors Commodities Federal Reserve Markets Best of Benzinga
View Comments and Join the Discussion!