The Top 10 Financial Tweets For Monday, August 26
There are millions of tweets written every day. Benzinga sifts through the maelstrom of information to find the ten best tweets of the day that are either informative, insightful or just down right comical.
1. Jesse Colombo
Jesse Colombo ( @TheBubbleBubble ) an analyst that was recognized for predicting the Financial Crisis four years in advance, tweeted out that a Tesla Motors (NASDAQ: TSLA ) bubble is being inflated and with lighting speed at that.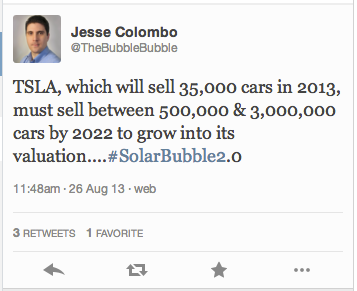 2. Pedro da Costa
Reuters reporter, Pedro da Costa, ( @pdacosta ) tweeted out a great article about the culprits responsible for unexpectedly low durable goods orders.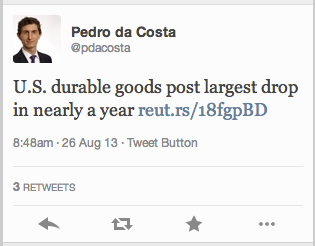 3. The Boston Globe
The Boston Globe ( @BostonGlobe ) tweeted out a great article about the counter productivity of student loans. Turns out that more often than not the American dream is being put on hold to deal with its inherent costs.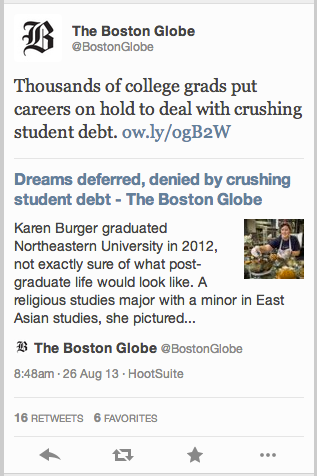 4. MSN Money Top Stocks
MSN Money Top Stocks ( @topstocksmsn) tweeted out that rising rates aren't crushing all potential for recovery. They even give a few safe havens for weathering that storm such as PulteGroup (NYSE: PHM ), D.R. Horton (NYSE: DHI ), and Toll Brothers (NYSE: TOL ).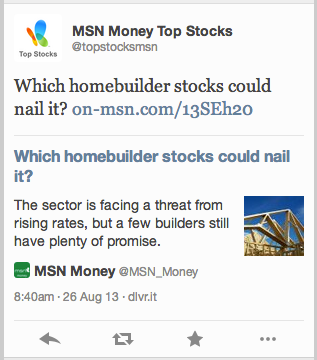 5. Michael Santoli
Senior columnist for Yahoo! Finance, Michael Santoli ( @michaelsantoli), for Yahoo! Finance, tweeted out an article about potential a potential relief rally for the bond market. Could durable goods miss be the first step? Quite probable.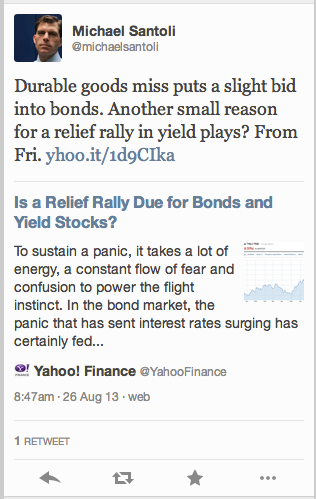 6. Bloomberg Markets
Bloomberg Markets ( @BloombergMrkts ) tweeted out that Europeans aren't giving up just yet. They're rowing away from recessionary waters full throttle.


7. Ben Eisen
Those consumed by anxiety during the Nasdaq blackout last week can take comfort in Israel's fiasco. Ben Eisen ( @BenEisen), reporter for Market Watch, tweeted out about that a single fat-finger trade caused the entire Tel Aviv 25 index to drop by more than 2 percent.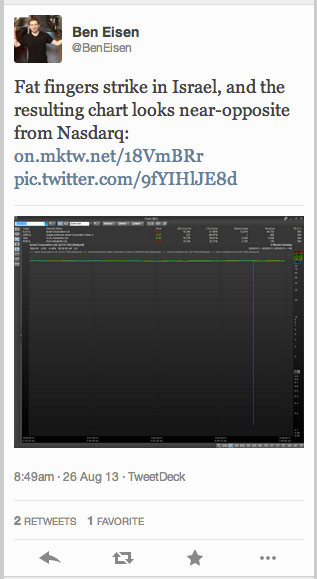 8. CNBC
CNBC ( @CNBC ) tweeted out that the battle between China and the U.S. for the title of #1 oil importer has reached the final…and China might end up on top.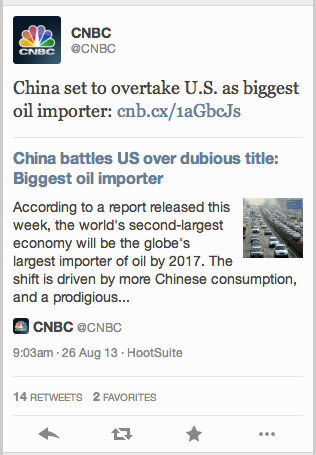 9. FierceBiotech
FierceBiotech ( @FierceBiotech ) tweeted out about Amgen's (NASDAQ: AMGN ) acquisition of Onyx Pharmaceuticals (NASDAQ: "> ONXX ). The future of Kyprolis, a cancer drug at the heart of the deal, is to be determined.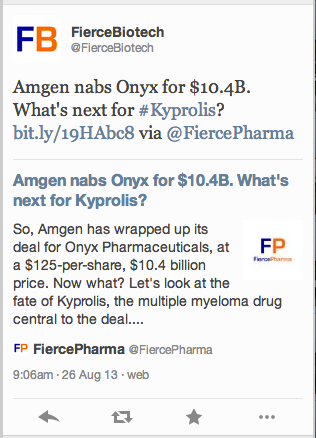 10. Bob Pisani
On-air stocks editor and trader talk blogger, Bob Pisani ( @BobPisani ), tweeted out an Internet welcome to the 2nd largest U.S. stock exchange brought to you by BATS and Direct Edge.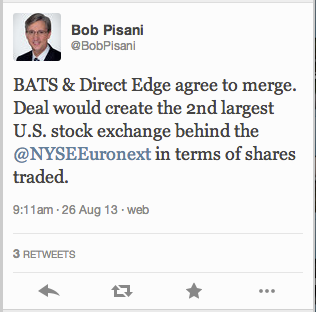 View Comments and Join the Discussion!
Posted-In: Ben Eisen Bloomberg MarketsNews Bonds Eurozone Treasuries Markets Media Best of Benzinga