Leaders See a Bright Future For Detroit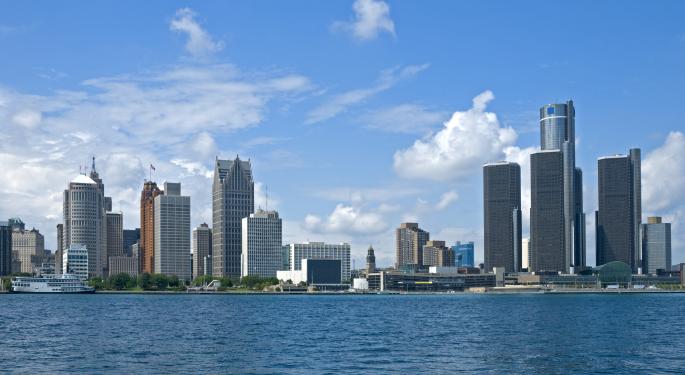 Detroit formally filed for bankruptcy late last week.
The bankruptcy, which will allow Detroit to restructure approximately $18 billion worth of debt, was not so much unexpected news after the culmination of decades of decline.
Business people and luminaries with close ties to Detroit spoke with Benzinga, and the general consensus is that the future is looking up for the Motor City. Many see the bankruptcy as the last necessary step for a bottom, and now look to private investment alongside government help to bring Detroit back to what it used to be decades ago.
Rallying Community
John Battelle (Twitter, @johnbattelle), Founder, Executive Chairman and CEO of Federated Media, and also Founder of OpenCo (hosting a Detroit startup event on September 11), believes that the spirit of the community will lead people to rally and become better.
"I believe Detroit is a shining example of how the people and innovative companies of a city are routing around bureaucracy and old thinking to re-imagine what can happen when a community pulls together around shared values."
Bankruptcy Creates Certainty
Peter Allen, Founder and President of Peter Allen and Associates, an expert in the Ann Arbor, Michigan property market and adjunct University of Michigan faculty member, believes that the bankruptcy will restore a sense of certainty to the Detroit real estate market after years of uncertainty. "Uncertainty is bad for real estate with its long term investment horizon," Allen said. "Banks and investors need to see 3-5 years out with reliability."
In fact, Allen is bullish on Detroit right now despite the bankruptcy filing. "Now is a better time to invest in Detroit than two days ago. And it was a fantastic investment time even then."
"Detroit's Bankruptcy Paves The Way For Reinvention"
Josh Linkner (Twitter, @joshlinkner), CEO and Managing Partner of Detroit Venture Partners, published his thoughts last week. Linkner believes that the bankruptcy is the catalyst for Detroit to find a new calling.
"I'm a firm believer that when I look back in decades, this five-year period will be the stint that I tell my grandkids about. That this period was the time during which Detroit got its mojo back – and today's announcement sets the public sector on a course to do just that."
"This Bankruptcy Won't Stop the People"
Elizabeth Boone (Twitter, @LizBoone24), Vice President of Category Lead Development at Federated Media Publishing, believes that the people of Detroit will help to rebuild the city with their drive and ambition. "The people of Detroit haven't, and won't wait, for the cavalry to come save the day. The bankruptcy was inevitable. Now the government will get down to the business of fixing things."
"We have momentum on our side now, we have some civic pride back and people are inspired by what is happening here and everyone loves a good comeback story."
"Detroit Will Be A Roaring City Once Again"
Ted Serbinski, (Twitter, @tedserbinski) partner at Detroit Venture Partners, a Detroit-based venture capital firm, is bullish on the long-term future for the city no matter what the current uncertainty may bring. "The bankruptcy is the final blow needed to clean house, so we have a strong foundation to build into," he told Benzinga.
"In ten years, Detroit will be a roaring city once again, defining a new technology hub at the intersection of muscle and brains. Where do you want to be in ten years? Status quo? Or one of the heroes that rebuilt a city?"
Calling the Bottom
Jason Raznick,(Twitter, @jasonraznick) Founder and CEO of Benzinga, believes that the bankruptcy marks a final bottom for the city. "We have reached a nadir," he said, "and the path is bright from here as we are already on the comeback trail."
Profound Change
Jordan Bolton, Commercial Litigation Partner at Clark Hill PLC, said, "Having worked in the city for more than a decade, I have seen minor signals of resurgence over the years, but nothing as pronounced as what I have seen in the last couple of years."
Bolton continued, "Retail is starting to make a small comeback, young people are more frequently choosing to live in the city, there is more diversity in the city center, and I have even seen a substantial uptick in tourism."
Detroit 2.0
Bradley Migdal, Managing Director at Newmark Grubb Knight Frank, said, "Metro-Detroit as a region is growing and diversifying. Detroit is not just an automotive town anymore. Detroit has been reinvented. This is an opportunity for Detroit to rise to a level it was during another generation."
Detroit Is Already On the Upswing
Jeff Epstein, (Twitter, @jeff_epstein) founder of Ambassador, believes that Detroit has already bottomed, and that the bankruptcy is merely a figurative point in time. "I think the bankruptcy is the 'figurative bottom,' the literal bottom was before Gilbert & Co. started buying land. Detroit has been on an upswing for more than a year."
Thoughts From the Author: Matthew Kanterman
Following Jeff Epstein's comments, the private money flowing into the city is a great start, but it is merely just a start... what is next is a functioning government that can provide the necessary services to support sustained growth.
Crucially, the city needs to find a way to link the bright and vibrant neighborhoods with the still lagging areas of the city. This next step will not be easy nor cheap, but once this happens and more people flock to the city, the tax base will grow and services will get better. After all, Detroit is a city built to sustain two million people, not the 700,000 it currently has.
Posted-In: News Bonds Entrepreneurship Politics Legal Events Econ #s Economics Best of Benzinga
View Comments and Join the Discussion!