Market Wrap for Thursday, June 20: Sell-Off Intensifies as Prices Plunge Across Asset Classes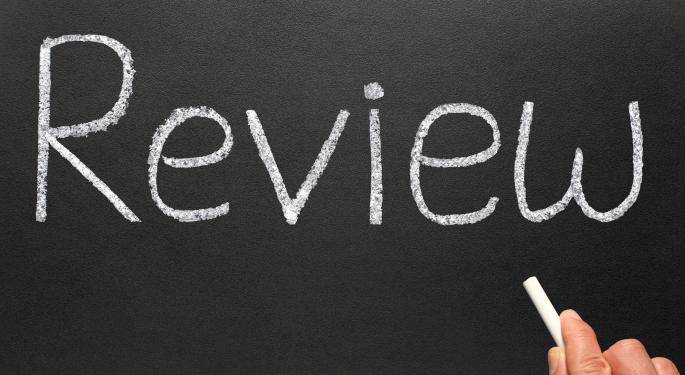 There was no hiding out on Wall Street on Thursday as stocks, bonds, and commodities were all crushed on expectations that the Federal Reserve will begin winding down its stimulus program later this year.
Reports suggest that the central bank will taper its bond purchases to $65 billion at the September FOMC Meeting and that the quantitative easing program will completely end by mid-2014.
Investor anxiety about slowing liquidity from the Fed could be seen across asset classes on Thursday as stocks, Treasuries, precious metals and energy prices all fell sharply. The Dow ended the day down almost 354 points.
Major Averages
The Dow Jones Industrial Average lost 354 points, or 2.34 percent, to close at 14,758.
The S&P 500 fell 41 points, or 2.50 percent, to 1,588.
The Nasdaq shed almost 79 points, or 2.28 percent, to 3,365.
Jobless Claims
Initial unemployment cliams rose to 354,000 for the week ending June 15 from 336,000 for the week ending June 8. This compared to consensus estimates calling for an increase to 340,000.
Continuing claims fell to 2.951 million for the week ending June 8 from 2.991 million for the week ending June 1. This compared to consensus expectations for a decline to 2.967 million.
Existing Home Sales
Existing home sales rose from 4.97 million in April to 5.18 million in May. This compared to consensus estimates calling for an increase to 5 million.
Philadelphia Fed
Manufacturing activity rose in the Philadelphia region in May. The Philadelphia Fed's Business Outlook Survey increased to 12.5 last month from -5.2 in May. This was the highest reported reading since April 2011 and came in well ahead of consensus expectations for an increase to -0.2.
Leading Indicators
The Conference Board's Index of Leading Indicators rose 0.1 percent in May from an upwardly revised 0.8 percent in April. The consensus expected that the index would increase by 0.2 percent.
Commodities
Crude oil plunged along with other risk assets on Thursday. Late in the day, NYMEX crude futures were trading down almost 3 percent to $95.40. Brent crude contracts had lost nearly 4 percent and were trading at $101.96. Natural gas fell roughly 2 percent to $3.88.
Precious metals plunged on indications that the Federal Reserve will begin tapering its bond purchases at its next meeting. Near the close, COMEX gold futures had fallen more than 7 percent to $1,276.80 while silver was down more than 9 percent to $19.60. Copper lost 3.16 percent on the session to $3.0520.
In the grains complex, both corn and wheat were lower on Thursday. At last check, corn had fallen 1.75 percent while wheat was down 0.91 percent. Movers in soft commodities included coffee and sugar. Coffee contracts fell nearly 5 percent on the day while sugar was down 3.64 percent.
Bonds
There were very few places to hide out on Thursday as bonds plunged along with stocks. Near the close of equities, the iShares Barclays 20+ Year Treasury Bond ETF (NYSE: TLT) was down 1.52 percent to $110.43. Yields jumped on the day amid the sell-off in bonds.
At last check, the 2-Year Note was yielding 0.32 percent while the 5-Year Note yield was sitting at 1.29 percent. The 10-Year Note and 30-Year Bond yields were 2.41 percent and 3.50 percent, respectively.
Currencies
The U.S. Dollar continued to strengthen on Thursday amid a "risk off" environment. Heading into the closing bell, the PowerShares DB US Dollar Index Bullish ETF (NYSE: UUP), which tracks the performance of the greenback versus a basket of foreign currencies, was up 0.59 percent to $22.19.
The closely watched EUR/USD pair was down 0.58 percent to $1.3195. Other movers included the USD/JPY, which rose 0.85 percent adn the USD/CAD, which was last trading up 1.04 percent. The Aussie Dollar also fell 1.79 percent against the greenback on Thursday.
Volatility and Volume
After not reacting to Wednesday's sell-off, the VIX soared on Thursday as falling prices across asset classes got traders' attention. At last check, the widely watched barometer of volatility expectations for the S&P 500 was up almost 25 percent to 20.73.
Volume was extremely heavy on Thursday as investors were taking big losses in bonds, stocks, and commodities. Around 263 million SPDR S&P 500 ETF (NYSE: SPY) shares traded hands compared to a 3-month daily average of 134.5 million.
Stock Movers
The ProShares UltraShort Silver ETF (NYSE: ZSL) soared more than 16 percent on the day after a huge plunge in silver prices.
GameStop (NYSE: GME) rose on news that Microsoft is reversing its decision on used games for the XBOX One and will not put restrictions on previously played console games. The stock was last trading up around 7 percent.
Wright Medical Group (NASDAQ: WMGI) climbed a little better than 4 percent on Thursday after the company announced that MicroPort will acquire its OrthoRecon business for $290 million.
Finisar (NASDAQ: FNSR) jumped around 9 percent after the company's fiscal fourth-quarter earnings results. Finisar also provided Q1 EPS guidance above consensus estimates.
Ebix (NASDAQ: EBIX) fell around 44 percent on Thursday after the company agreed to terminate a merger agreement with an affiliate of Goldman Sachs. The news came in the wake of a U.S. Attorney's investigation into allegations of intentional misconduct at the company.
Shares of Navistar (NYSE: NAV) fell more than 11 percent on the day after S&P lowered the company's credit rating.
Homebuilders, including PulteGroup (NYSE: PHM), Ryland Group (NYSE: RYL), and Toll Brothers (NYSE: TOL) all traded sharply lower on Thursday amid fears that rising mortgage rates will derail the recovery in housing.
The plunge in gold prices on the day sent gold mining shares into a tailspin. Among the biggest losers was Yamana Gold (NYSE: AUY), which fell around 10 percent.
View Comments and Join the Discussion!
Posted-In: Earnings News Bonds Broad U.S. Equity ETFs Guidance Futures Currency ETFs Movers & Shakers Best of Benzinga