Apple Sells $17 Billion in Bonds in Largest Corporate Bond Offering Ever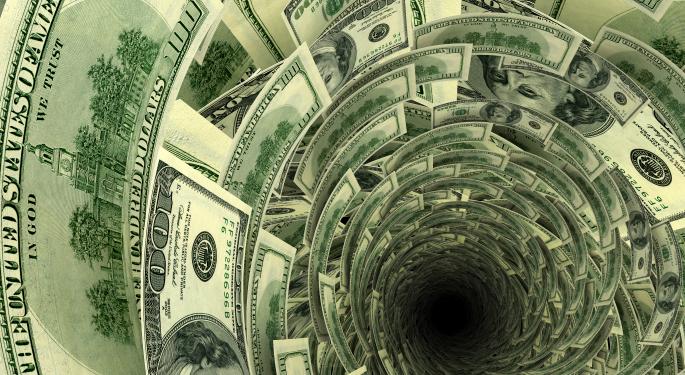 Apple (NASDAQ: AAPL) sold $17 billion in corporate debt Tuesday night, its first issuance in 20-years that marked the largest debt deal in history. Apple sold debt at low rates as the debt was highly rated by S&P, at AA+, and Moody's, Aa1, with demand far outpacing supply.
The debt breakdown is as follows:


Apple sold $5.5 billion of 10-year bonds priced to yield 2.415 percent, a spread of 75 basis points over the 10-year Treasury.

Apple sold $1.5 billion in 3-year notes priced to yield 0.511 percent, a spread of 20 basis points over similar Treasuries.

Apple sold $4 billion of 5-year notes priced to yield 1.076 percent, a spread of 40 basis points to the 5-year Treasury.

Apple sold $3 billion in 30-year bonds priced to yield 3.883 percent, a spread of 100 basis points over the 30-year Treasury.

Apple sold $1 billion of 3-year floating rate notes to yield 5 basis points above the 3-month Libor rate.

Apple sold $2 billion of 5-year floating rate notes to yield 25 basis points above the 3-month Libor rate.
Apple was able to borrow the money in six chunks at historically low costs, taking advantage of a sharp decline in Treasury interest rates, which drive the prices of corporate debt.
Underwriters
Goldman Sachs and Deutsche Bank were the underwriters on the deal and received massive orders for Apple's debt. Demand outpaced supply by more than three times in the deal, showing huge demand for these colloquially known "iBonds."
On Monday morning, underwriters began contacting investors for bids on the bonds and by Tuesday afternoon, had received some $52 billion in orders for the $17 billion in supply. This breakdown of demand and supply brought the bid-to-cover ration to just above 3 in the deal.
Investors bidding on the deal included pension funds, insurance companies, hedge funds, wealthy individuals, and bond portfolio managers. This diverse group of buyers shows just how much investors are willing to buy corporate debt in this environment.
Largest Corporate Bond Offering in History
Apple's debt sale will go down as the largest single corporate bond issuance in history. However, setting financial records is nothing new for Apple, as it was, at one point, the largest company in the world. This from the company who is notorious for driving innovation in the tech space over the last several years and has since garnered a cult following among both consumers and investors alike.
The previous record deal was Roche Holdings' $16.5 billion offering in 2009. The pharmaceutical giant sold this debt in February 2009 to cover a financing gap.
Usage of Funds
As stated in the prospectus, Apple plans to use the funds to increase its capital distributions to investors. "We intend to use the net proceeds from sales of the notes for general corporate purposes, including repurchases of our common stock and payment of dividends under our recently expanded program to return capital to shareholders."
"On April 23, 2013, we announced that we increased our existing share repurchase program authorization from $10 billion to $60 billion and raised our third quarter 2013 cash dividend by 15%. Other general corporate purposes may include, among other things, funding for working capital, capital expenditures, and acquisitions."
Cheap Debt
Apple's low yields are the norm and not the exception as of late. Companies and governments around the world have been selling debt at low yields for the past few years as investor appetite for debt has increased and as market rates have fallen due to central bank actions. Just this week, the 10-year Treasury yield fell to the lowest level of 2013, showing the strength of demand in the bond market.
Last week, Apple's rival Microsoft (NASDAQ: MSFT) sold 10-year bond priced to yield 2.413 percent, a mere 0.2 basis points below Apple's yield. However, Microsoft is AAA/Aaa-rated while Apple is AA+/Aa1-rated, showing just how strongly investors craved Apple's debt in particular.
Overall, n the first 17 weeks of 2013, a record $55.2 billion flowed into bond mutual funds and exchange-traded funds that focus on investment-grade corporate debt. The previous record was $49.9 billion for the same period in 2010. Demand for corporate debt has really never been stronger.
In response, companies have issued a record year-to-date amount of high-grade bonds in the U.S., Thomson Reuters data show. Companies have sold $358.14 billion this year, or just about 2.25 percent of GDP in bonds.
Apple shares rose 0.26 percent pre-market to $442.78.
Posted-In: News Bonds Termination Dividends Financing Offerings Buybacks Hot Best of Benzinga
View Comments and Join the Discussion!