Chavez Rumors Not Hampering Bond ETFs...Yet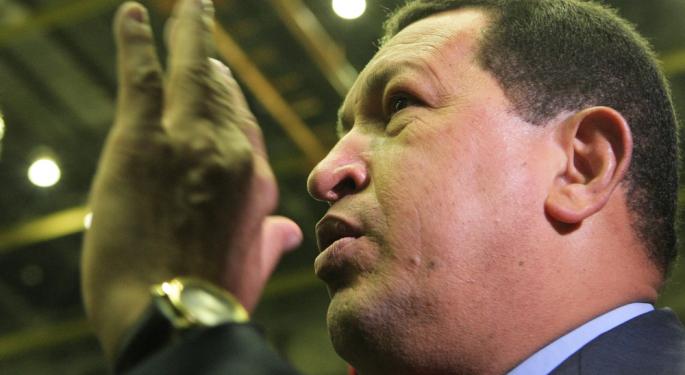 News that Venezuelan President Hugo Chavez's health is rapidly deteriorating does not appear to be having an adverse impact on some of the ETFs that offer exposure to Venezuelan bonds. This is a theme worth monitoring because the bond market is the only avenue most Americans have for investing in the South American nation.
Vice President Nicolas Maduro, the presumed successor to Chavez, and other senior Venezuelan recently flew to Cuba where Chavez is attempting to recover from a fourth cancer-related procedure. Maduro has described El Comandante's health as "delicate," according to London's Guardian newspaper.
The Telegraph reported a situation more dire. Citing a well-known Venezuelan physician, the Telegraph reports the last procedure on Chavez was a failure and the president is living his last days.
As was the case in December when Chavez first arrived in Cuba, ETFs with exposure to Venezuelan debt are mixed on the most recent batch of headlines.
During Thursday trading, the Market Vectors Emerging Markets High Yield Bond ETF (NYSE: HYEM), on light volume, touched a new all-time high and settled just a penny below that new high. HYEM, which tracks emerging markets corporate debt, features a weight of 8.73 percent to Venezuela. Not to mention, the ETF's largest holding is an issue from Petroleos De Venezuela, the country's state-run oil company, maturing in 2017 with a coupon of 8.5 percent. Another Petroleos De Venezuela issue, this one maturing in 2014 with a 4.9 percent coupon, is also found among HYEM's top-10 lineup.
Also on light volume, the iShares Emerging Markets High Yield Bond Fund (NYSE: EMHY) touched a new all-time high on Thursday. EMHY, which debuted in April 2012 and already has close to $200 million in assets under management, is the ETF with the largest Venezuela exposure. South America's largest oil producer accounts for 15.21 percent of EMHY's country weight, putting it just behind the 15.3 percent the ETF devotes to Turkey.
One explanation for the bullish performances of EMHY and HYEM in the face of negative news about Chavez's health is that Venezuela alone is not the primary driver of performance -– in either direction –- for these ETFs.
Another possible explanation is that traders know that even if Chavez passes away and Maduro becomes president, a highly probable scenario, Venezuela's constitution mandates that new elections must be held within 30 days if Chavez is not sworn in on January 10. That could open the door for Venezuelans, assuming the elections are truly democratic, to elect a more free-market, pro-business regime. If that happens, Venezuela's economy could be on a path to becoming more like Peru's or that of neighboring Colombia.
All of that is speculation until Chavez's health dramatically improves or he passes away. Interestingly, one ETF with Venezuela exposure did not get in on the good times on Thursday. The Market Vectors LatAm Aggregate Bond ETF (NYSE: BONO), which features a 9.53 percent allocation to Venezuela, slid almost one percent on volume that was more than double the daily average.
For more on Venezuela and ETFs, click here.
View Comments and Join the Discussion!
Posted-In: Long Ideas News Bonds Short Ideas Specialty ETFs New ETFs Emerging Market ETFs Commodities Best of Benzinga