Emerging Markets Bond ETFs Showing Post-Election Mettle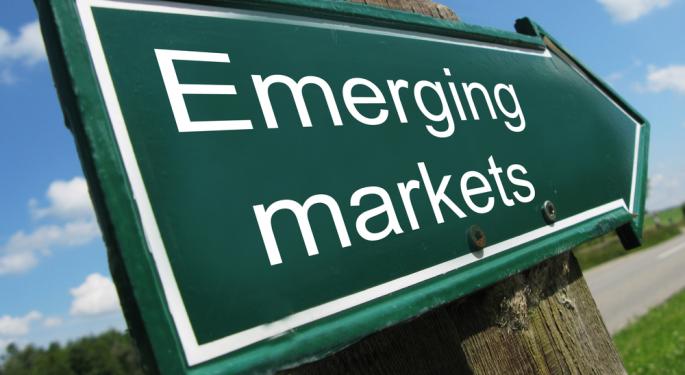 As U.S. equities falter following the results of Tuesday's presidential election, one of this year's most popular asset classes is proving quite study: Emerging markets bonds. Specifically, the ETFs that track dollar-denominated corporate and sovereign developing markets debt are holding up nicely relative to stocks and other riskier assets.
One obvious reason for this is low correlations to U.S. equities. As Benzinga reported on Tuesday, the PowerShares Emerging Markets Sovereign Debt Portfolio (NYSE: PCY) has a three-year correlation to the SPDR S&P 500 (NYSE: SPY) of just 0.69.
PCY, which has over $2.8 billion in assets under management, is modestly higher today. So is the $6.2 billion iShares J.P. Morgan USD Emerging Markets Bond Fund (NYSE: EMB). Both feature dollar-denominated sovereign debt issued by developing nations.
The two have been among the most impressive gatherers of assets in the ETF universe this year. Just six weeks ago, PCY had $2.25 billion in AUM.
ETFs that offer exposure to emerging markets corporates are also holding up well today. The WisdomTree Emerging Markets Corporate Bond Fund (NASDAQ: EMCB), the largest ETF offering exposure to emerging markets coprorates, was found near its highs of the day at just after 2 p.m. Eastern time. Actively managed, EMCB has proven to be one of 2012's most successful new ETFs as investors have sought alternative avenues for generating income.
The growth of the emerging markets corporate bond space could bolster the bull case for EMCB and rival funds going forward. As PIMCO recently noted, "the stock of EM corporate bonds outstanding has grown to around $1 trillion, dwarfing that of EM sovereigns at $680 billion."
Some of the funds that feature bonds denominated in local currencies are, at the very least, performing less bad than U.S. stocks today. The WisdomTree Emerging Markets Local Debt Fund (NYSE: ELD), the second-largest actively managed ETF, is unchanged. ELD's cousin, the WisdomTree Asia Local Debt Fund (NYSE: ALD), modestly higher.
The iShares Emerging Markets Local Currency Bond Fund (NYSE: LEMB) and the Market Vectors EM Local Currency Bond ETF (NYSE: EMLC) are both down slightly. LEMB has $207.5 million in AUM while EMLC has over $1 billion in assets.
For more on emerging markets bonds, click here.
View Comments and Join the Discussion!
Posted-In: Long Ideas News Bonds Short Ideas Specialty ETFs New ETFs Emerging Market ETFs Currency ETFs Best of Benzinga