Downgrade Could Hasten Argentina's Frontier Departure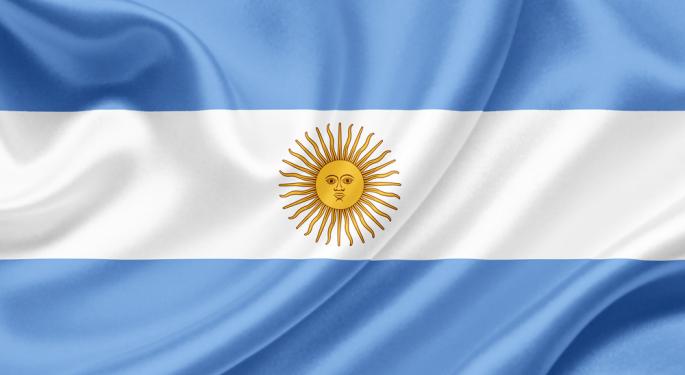 Argentina, South America's third-largest economy, could see its tenuous grasp on frontier markets status loosen more rapidly after Standard & Poor's pared the country's credit rating one notch to B- from B on Tuesday.
Following its annual classification review in June, index provider MSCI (NYSE: MSCI) said Argentina was on review for possible downgrade. In September, FTSE Group echoed those sentiments.
"Argentina is listed for possible demotion from Frontier due to continuing stringent capital controls imposed on international investors and the perceived lack of an independent regulatory authority to protect the rights of shareholders," FTSE said in a statement. "Argentina was demoted from Secondary Emerging to Frontier in 2010."
News of the S&P downgrade followed a ruling last week by a U.S. appeals court, which ruled the country cannot pay down its sovereign debt while refusing to pay holders of previously defaulted debt. The ruling sent credit default swaps on Argentine debt soaring as much as 576 basis points, or 5.76 percentage points, to 1,534 basis points, according to Bloomberg.
With U.S. equity markets closed Monday and Tuesday because of Hurricane Sandy, the impact of the court ruling on the Global X FTSE Argentina 20 ETF (NYSE: ARGT), the lone Argentina-specific ETF, is not yet known. Combine the court ruling with the S&P downgrade and it is reasonable to expect ARGT could be in for downside.
Due to the Argentine government's anti-free market practices, ARGT is off almost 19 percent year-to-date.
Where Argentina Goes From Here As Bloomberg noted, a credit rating of B puts Argentina on the same level as Belarus, Jamaica and Pakistan. It might be more instructive to look at the credit ratings of the countries that comprise the newly minted iShares MSCI Frontier 100 Index Fund (NYSE: FM).
With a weight of 3.2 percent, Argentina is the eighth-largest country weight in the iShares MSCI Frontier 100 Index Fund. Comparably rated Pakistan is FM's sixth-largest country component. Kazakhstan and Oman, the two countries right in front of Argentina in FM, are rated BBB+ and A, respectively, by S&P. Bangladesh and Vietnam, the countries directly behind Argentina in FM's lineup, are each rated BB-.
Kuwait and Qatar, which combine for almost 46 of FM's weight, are rated AA. Nigeria, another top country weight in FM, is rated B+. In other words, Argentina sitting at B- looks bad even by the standards of frontier markets.
Making matters worse is the fact that Fitch Ratings pared its rating on Argentina's long- and short-term foreign currency debt to B and placed the country on credit-watch negative. Of the top-10 country weights in FM that Fitch rates, almost all rated higher than B.
Added Concerns Argentina's economic and political woes have the potential impact ETFs beyond ARGT and FM. The $154.6 million Guggenheim Frontier Markets ETF (NYSE: FRN) features an 8.54 percent allocation to the country, making it the ETF's fifth-largest nation weight.
FRN's saving grace could prove to be the other South American nations represented in the fund. Decidedly more dependable and home to superior growth rates and and friendlier governments, Chile, Colombia and Peru combine for over 63 percent of FRN's weight.
For more on Latin America and ETFs, click here.
Posted-In: Long Ideas News Bonds Short Ideas New ETFs Emerging Market ETFs Events Global Best of Benzinga
View Comments and Join the Discussion!