A Binary Options Trade For Friday's Jobs Number
The US Nonfarm Payroll and the Average Hourly Earnings reports will be released Friday at 8:30 AM ET. These reports detail the change in the number of people employed and in the price of labor that businesses pay, excluding the farming industry. Markets can react strongly to these reports and as a result, the implied volatility present offers trading opportunities.
An example of a type of trade is an Iron Condor set up for different markets using Nadex spreads. An Iron Condor utilizes a spread bought below the market and a spread sold above the market. The ceiling of the bought spread should meet the floor of the sold spread and be where the market is trading at the time of entry.
To help visualize how an Iron Condor is set up, suppose the Nadex NQ (E-mini NASDAQ-100 Futures) market was trading at 5878.6. The 5830.0-5870.0 spread was bought and the 5870.0-5910.0 spread was sold, both with the same expiration times. Notice how the ceiling (5870.0) of the lower spread meets the floor (5870.0) of the upper spread.
The image below gives various trading scenarios of example markets one could choose along with each market's ideal minimum profit and an appropriate place for setting stops.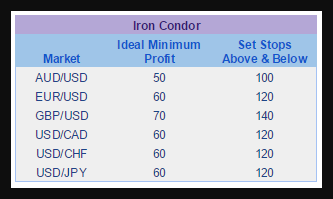 The Straddle strategy is another example for trading into this news event. This strategy is the opposite setup of the Iron Condor. Again, it uses Nadex spreads, but this time, the lower spread is sold and the upper spread is bought.
To illustrate how a Straddle is set up, suppose the USD/JPY was trading at 109.562. The 109.60-110.60 spread was bought while the 108.60-109.60 was sold. The floor of the bought spread is equal to the ceiling of the sold spread. At the time of entry, the bought spread had a risk of five dollars and the sold spread's risk was around nine dollars. Again, both spreads had the same expiration time.
The risk is low and does not require stops. However, it would be wise to place take profit orders just after entering the trade.
Various markets can be traded. The following image shows different scenarios offering potential maximum risks and sample take profits.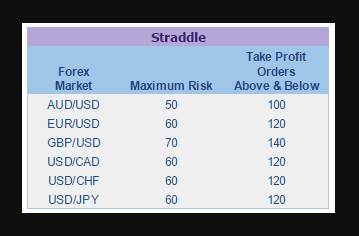 Once a news report is released, 90 percent of the time the biggest move will happen within the first 15 minutes. Nevertheless, allow time on both sides of the report for market movement. Do not be overwhelmed when trading the news. Learn and use high probability setups and strategies.
Free day trading education is available at www.apexinvesting.com.
Posted-In: Binary Options Education Eurozone Futures Commodities Options Forex Markets