Multiple Capped Risk Trade Strategies For Non-Farm Payroll And Unemployment Rate
Friday, Non-Farm Payroll and the Unemployment Rate news will be released. When Non-Farm Payroll comes out, the markets can really move presenting multiple possible strategies for capturing profit. With these recommended strategies, you have capped risk and often low risk as well.
The risk is capped because you are using Nadex spreads, which have a floor and a ceiling. Depending on the direction you trade, your spread you can't win or lose past the floor or the ceiling. With the first recommended strategy, straddles, your risk is low. To set the straddle up, you will sell a lower spread and buy an upper spread. Be sure the bought spread's floor meets the sold spread's ceiling. Below is a table showing the max combined risk for each straddle, straddling each market and the number of pips to set your take profit for the straddle. Your limit take profit orders should be set immediately after placing the orders. Place one on both sides since the purpose of a straddle is the opportunity to catch profit should the market go up or down. You can see from the chart that the risk is low for each straddle as well. You can enter as early as 7:00 AM ET for 9, 10 or 3 PM ET expirations. Remember that 90 percent of the time the biggest move has happened in the first 15 minutes after the news is released.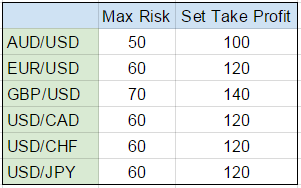 Another strategy to use is the Iron Condor. To set this trade up you do the opposite of the straddle. You want to buy the lower spread and sell the upper spread. Be sure that the lower bought spread's ceiling meets the upper sold spread's floor. For this setup use the chart below to see the minimum profit potential you should have for each of your Iron Condors depending on the market. Again, you can enter as early as 7:00 a.m. ET for 9, 10 or 3 p.m. ET expirations.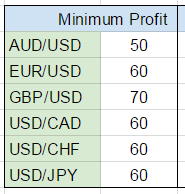 For this trade as the market moves, one side may profit and then the other may profit as the market pulls back. Often the market will remain flat from 11 AM - 3 PM. To use the spread scanner to easily find your spreads and for fast entry, go to www.apexinvesting.com. There you will find free education on how to trade Nadex spreads, binaries and futures, forex and CFDs.
The preceding article is from one of our external contributors. It does not represent the opinion of Benzinga and has not been edited.
Posted-In: Binary Options Education Eurozone Futures Commodities Options Forex Markets