Ninja Trader Brokerage Adds Forex
FOR IMMEDIATE RELEASE
April 8, 2015
On April 7, 2015, Ninja Trader Group, LLC announced the addition of forex trading to the services available through its NinjaTrader Brokerage. This will bring access to the world's largest and most liquid market directly through a NinjaTrader Brokerage account. This is a bonus benefit if you already have a NinjaTrader Brokerage Futures account. You can now open a forex account and simply use your single NinjaTrader license key.
Diversification Opportunities
According to Eliot Wickersheimer, EVP of Brokerage Operations, "Adding the foreign exchange markets to our existing futures brokerage services will not only appeal to current forex traders, but also provides a diversification opportunity for futures traders currently trading with NinjaTrader Brokerage."
Deep Discount Commissions
In a Press Release from NinjaTrader, it was explained "As an Introducing Broker for FXCM, NinjaTrader Brokerage clients will have access to one of the largest networks of FX liquidity providers." This will enable them to deliver savings and "deep discount commissions."
Roger Stojsic of NinjaTrader said, "The driving force behind NinjaTrader becoming a brokerage firm really comes down to controlling and enhancing the Customer Experience by not only providing transparent, deeply discounted commissions, but also providing a more integrated, seamless, single source of award-winning support for both your platform and brokerage account needs."
The chart below shows the type of deep discounts being referred to by these men at NinjaTrader. For example, a Round Turn Commission on ES is only $3.40 a contract with a purchased single broker license.
Click HERE to see a larger image.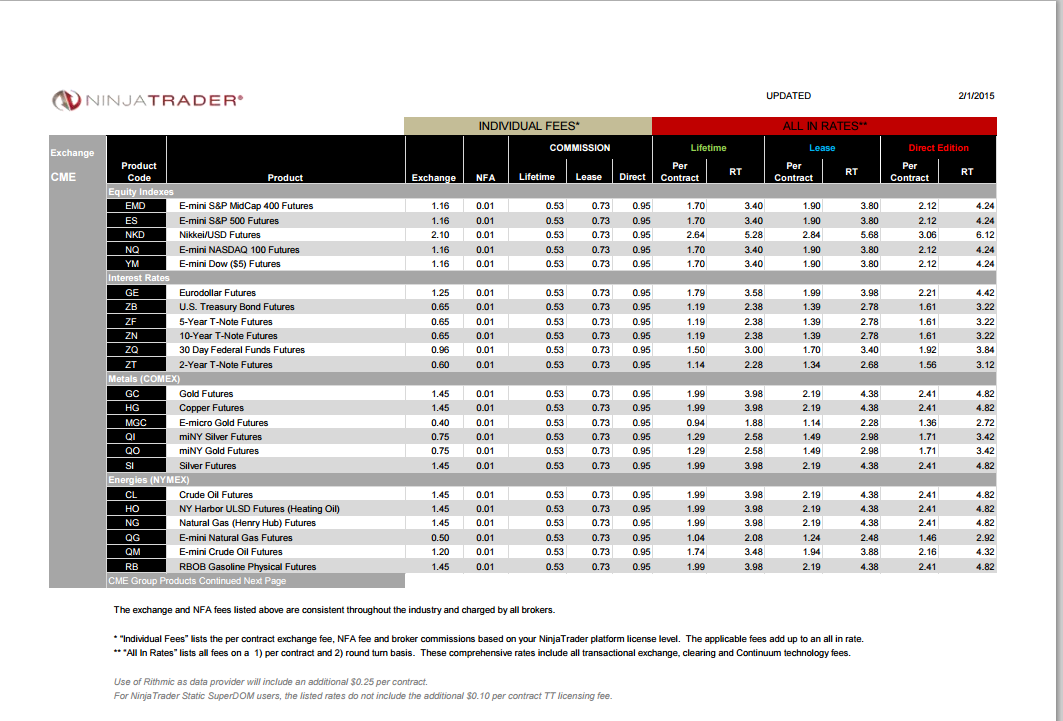 Click on the respective links to see all of NinjaTrader's commissions for FUTURES and for FOREX. Risk/Reward ratio on forex futures is 50:1 on majors and 25:1 on exotics.
One Stop Shop
When Roger Stojsic was asked what he thought about the new addition of forex to the NinjaTrader Brokerage, he replied, "I think having a single source of support for platform and brokerage, (with) new technology enhancements will allow for integrated account management directly through (the) trading platform. A one stop shop that also offers the lowest rates in the industry without any volume tiers or requirements."
Darrell Martin, a trader and trading coach at apexinvesting.com, a free education trading website with over 12,000 members responded, "This is fantastic news! Users can have one single point for their platform, futures and forex broker. They can even save on their platform cost by using a single broker license."
Ready To Help
If you want to learn how to trade futures/forex among other things, you can go to www.apexinvesting.com. There you will find free education to help you understand the ins-and-outs of trading. It is always best to practice what you learn in Demo before you risk real money in live. To set up your free Demo account, click HERE for FUTURES and HERE for FOREX. NinjaTrader is also ready to help. Roger Stojsic is the direct contact for questions you may have about forex and NinjaTrader or to open an account. You can reach him at 312.262.1257 or roger.stojsic@ninjatrader.com. The contact number for NinjaTrader Brokerage is 1.800.4961683.
Posted-In: apexinvesting binaryNews Education Futures Forex Markets General
View Comments and Join the Discussion!