Boeing or Airbus: Which is the Better Bet?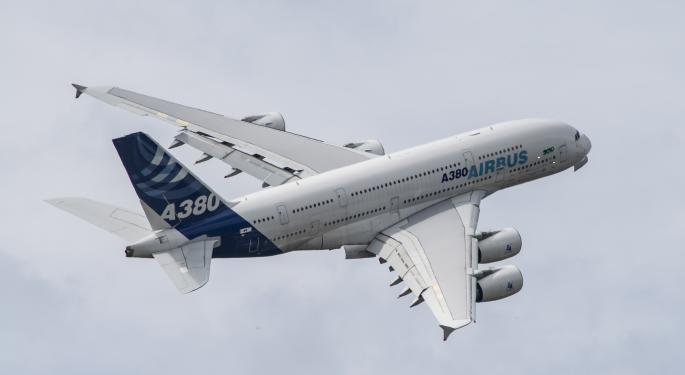 The stakes are high in the world of airline manufacture.
For years, the two main players in the field have been U.S. aircraft manufacturer Boeing (NYSE: BA) and European aircraft manufacturer Airbus (OTC: EADSY). 2013 was very successful year for the stocks of both companies.
This was despite the fact that each saw its unique challenges.
In January 2013, Boeing began trading at $77.00. With the delivery of its much anticipated Dreamliner airplanes continuing into 2013, the company seemed poised to fly high. However, problems with the lithium-ion batteries aboard many of the jumbo jets, which had begun in 2012, continued into 2013. These problems caused a fire hazard aboard the airplanes, and hence led to the Dreamliner's being grounded as the problem was researched.
Despite the uncertainty regarding the aircraft, Boeing's stock didn't flinch. Boeing's 2013 chart more or less a perfect upward slope, with the company finishing 2013 at $137.00 – returning 77 percent for the year.
Related: Spirit Airlines or JetBlue: Which is the Better Bet?
Airbus, too, had a stellar year in terms of stock appreciation. The stock priced at about $40.00 on January 2, 2013. Airbus benefited from positive news throughout the year – the company was continually cited for beating Boeing in terms of orders. However, the company lagged in aircraft deliveries, allowing Boeing to retain the number one spot as the world's largest aircraft manufacturer for 2013.
Airbus actually saw a better percentage return on its stock in 2013 seeing a 92 percent increase on a close of $77.00.
2014 is set to be the next round in the ongoing fight between these rivals.
Boeing faces ongoing challenges, including the performance of its Dreamliner aircraft and labor issues which could affect productivity and aircraft deliveries. The Dreamliner issues seem to have been mostly solved for now, and with the signing of an 8-year contract extension by the International Association of Machinists, Boeing seems to have its labor force under control. Still, the vote was extremely close, 51 percent to 49 percent. Considering the company has major backlogs of deliverable aircraft, it will need for its machinists to work diligently in order to make deliveries on time.
Certain realities also affect both companies. Major mergers of airlines, or a tragedy that is the result of an aircraft malfunction, could put a damper on things. But for now, both Airbus and Boeing seem to be in a good position to continue to soar.
Posted-In: Airbus DreamlinerMarkets Trading Ideas Best of Benzinga
View Comments and Join the Discussion!