Hedge Fund King Paulson Having A Rough Year (BAC, WFC, GLD, C)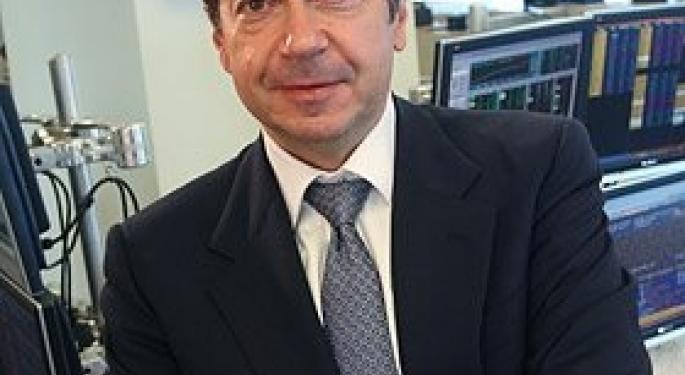 John Paulson, the hedge fund manager who made billions by predicting the collapse of the sub-prime mortgage market, has fallen on hard times...relatively speaking. Bloomberg News has recently reported that Paulson's $9 billion Advantage fund lost 5.8% in the first six months of 2010. His Advantage Plus fund was down 8.8%.
Reports also indicate that another one of his funds, the Recovery fund, is positive in 2010, but lost 12.4% in June. This is in contrast to the incredible run of success that Paulson has had over the last couple of years. In 2007, one of his funds gained 590%. As a result of his incredible performance, Paulson's assets under management went from $12.5 billion in 2007 to $36 billion as of November 2008. He personally made $3.7 billion in 2007.
Paulson has been making money in gold for some time now, and has a stake worth about $3 billion in the SPDR Gold Trust ETF (NYSE: GLD). His gold fund is up around 13% this year. Other than that, however, Paulson's positions look questionable to say the least. He is betting on the housing market, casinos, and financials.
In the gaming sector, he owns Harrah's Entertainment, MGM Resorts International (NYSE: MGM) and Boyd Gaming (NYSE: BYD). In housing, Paulson recently established a long position in Beazer Homes (NYSE: BZH), saying that he had turned bullish on the housing market.
The biggest bet of all that Paulson is currently making is on financial stocks, which have been hit hard during the latest market swoon. He has positions in Bank of America (NYSE: BAC), Citigroup (NYSE: C), Suntrust (NYSE: STI), J.P. Morgan Chase (NYSE: JPM), and Wells Fargo (NYSE: WFC) among others. It is starting to look more and more likely that things will continue to get rocky in Paulson's portfolios. He may be proven right in the long-term, but right now skeptics abound.
"Look, most people have nice things to say about Paulson," says a competitor..."He is a smart guy with a history of doing well in merger arbitrage with a much smaller fund. He got the one big trade right, and now people seem to think he's an expert at all sorts of other stuff."
Only time will tell if Paulson is a proverbial "flash in the pan," or whether he has the ability to continue to print money for his investors.
View Comments and Join the Discussion!
Posted-In: BLOOMBERG NEWS John Paulson Paulson & Co.Hedge Funds Movers & Shakers Media General