Heavy Is The Crown: WWE's Saudi Arabia Problem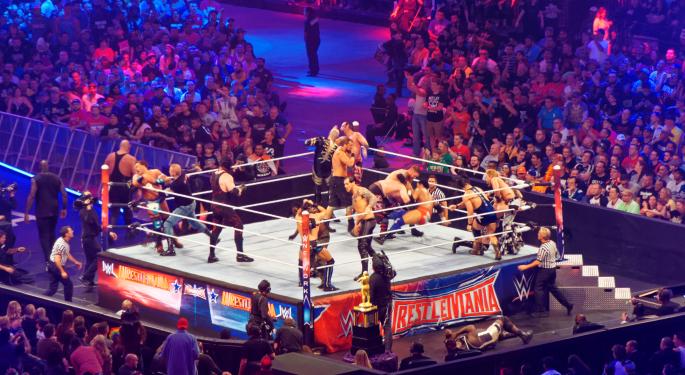 Tensions between the U.S. and Saudi Arabia are extremely high after Turkey accused the kingdom of murdering journalist Jamal Khashoggi in the Saudi consulate in Istanbul.
With President Donald Trump and the Saudi government exchanging barbs over Khashoggi's disappearance, the fate of the upcoming World Wrestling Entertainment, Inc. (NYSE: WWE) Crown Jewel show, scheduled to take place in Riyadh, Saudi Arabia Nov. 2, is uncertain.
Editor's note: In WWE's Q3 earnings release on Oct. 25, the company confirmed the Crown Jewel event will go on as planned.
Serious Accusations
Up to this point, WWE has remained mostly silent on the Khashoggi situation other than a statement that the company is "monitoring the situation."
Trump threatened Saudi Arabia with "severe punishment" if the Saudi government is responsible for Khashoggi's death. The president said he's sending Secretary of State Mike Pompeo to Istanbul to participate in the investigation.
Dave Meltzer, founder of the Wrestling Observer Newsletter, told Benzinga that if WWE cancels the Crown Jewel event, a 10-year deal with Saudi Arabia — which Meltzer estimates is worth in the neighborhood of $450 million — could be at risk.
The deal between the WWE and the Saudi government is unprecedented in the history of the business — and the purpose of the April 27 Greatest Royal Rumble event was clear, Meltzer said.
"There's never been a government that's basically paid them anything close to this to come in and be their propaganda voice," Meltzer told Benzinga. "But that's what it was. They were their propaganda voice."
"The show that they did [in April] with the announcing that they did then, I can't see that it's possible they could do that now without offending."
Comedian John Oliver highlighted the WWE-Saudi tie-up on his HBO show "Last Week Tonight."
"[A]round the world we're treated to wall-to-wall propaganda about the new Saudi Arabia, including video showing women happily driving, men dancing and tourist destination beauty shots as well as constant excited compliments throughout the broadcast," Oliver said Oct. 14.
WWE did not respond to a request for comment on this story from Benzinga.
Political Pressure
WWE is in a difficult political situation.
Glen Jacobs, who is mayor of Knox County, Tennessee and performs for WWE as the character Kane, issued a statement saying he's still planning on performing at Crown Jewel and "won't speculate on Mr. Khashoggi's disappearance."
Linda McMahon, the wife of WWE CEO Vince McMahon, serves in Trump's cabinet as administrator of the Small Business Administration. Senators on both sides of the aisle, including Democrats Chris Murphy and Chris Coons and Republican Lindsey Graham, have called for WWE to at least put its plans on hold until more information is revealed.
"There should be a pause," Graham said Friday.
Women's Revolution?
WWE faces a major potential backlash for endorsing Saudi Arabia in today's environment.
WWE recently struck a 10-year deal with the Saudi General Sports Authority. Even prior to the Khashoggi controversy, WWE already dealt with harsh criticism about not allowing female performers to participate in its Greatest Royal Rumble show in April. Saudi Arabia is often a target of women's rights activists due to its oppressive treatment of women.
The Great Royal Rumble was the first live wrestling event women were allowed to attend in the country. Saudi authorities apologized after the event for videos that aired featuring scantily clad female performers.
Over the past four years, WWE has been marketing its top female performers as part of what it calls the "Women's Revolution" in professional wrestling. WWE even scheduled its first ever all-female pay-per-view event, WWE Evolution, for Oct. 28 in New York, the same week as Crown Jewel.
Meltzer said WWE is caught between avoiding a breach of the massive contract with Saudi Arabia and alienating the rest of WWE's global audience. For now, WWE will likely try to proceed with the show while also attempting to remove as much potentially offensive language as possible.
"But what does that mean? Because Saudi is paying for a propaganda piece, not for a wrestling show," Meltzer said. "So it's a very touchy situation."
Financial Impact
When asked in April about the financial impact of the Saudi event, WWE executives did not specifically detail revenue numbers. Experts estimate WWE received roughly $40 to $50 million from the event.
JPMorgan Chase & Co. (NYSE: JPM), Ford Motor Company (NYSE: F) and BlackRock, Inc. (NYSE: BLK) are among the companies that have pulled executives from upcoming appearances in Saudi Arabia.
Endeavor Content has reportedly begun the process of terminating a $400-million investment deal with the Saudi government, a deal similar in scope to the WWE agreement.
With the amount of money that's potentially on the line and the Crown Jewel show date just a few weeks away, Meltzer said it would take a lot for WWE to cancel at this point. Ultimately, he said the entire 10-year deal with Saudi Arabia could be at risk if WWE is forced to cancel.
"If WWE could go to them and say, 'this isn't a good time, let's go back next year because the heat will be down then,' that would probably be the right move. But I don't know that that's a move that the Saudis are going to accept," Meltzer said.
Sports Illustrated reported "multiple members of the WWE talent roster have expressed discomfort with the idea of performing in Saudi Arabia, especially given the nation's poor record with human rights."
In response, WWE told the New York Post, "As always, we maintain an open line of communication with our performers, as we continue to monitor the situation."
Related Links:
Citi Raises WWE Price Target Based On Free Cash Flow Outlook
Wells Fargo Sees More Upside For WWE Thanks To 'Raw' And 'Smackdown'
Photo credit: Miguel Discart, Flickr
View Comments and Join the Discussion!
Posted-In: News Politics Sports Events Top Stories Exclusives Interview General Best of Benzinga