Trump, EU Agree On Concessions To Avoid Trade War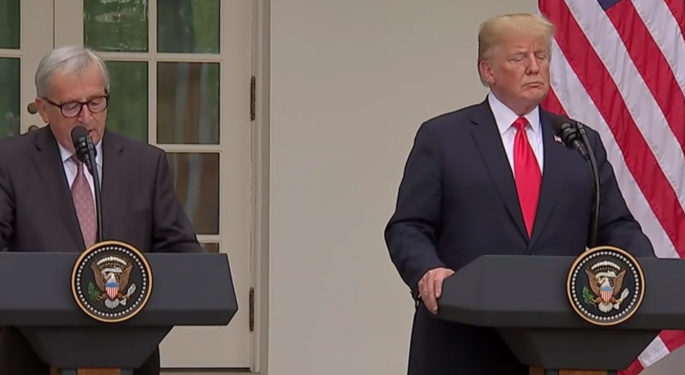 The markets spiked higher Wednesday afternoon on news of President Donald Trump's meeting with European Commission President Jean-Claude Juncker over trade negotiations. Trump and Juncker have launched a new phase to work toward zero tariffs and zero subsidies on non-auto industrial goods.
What Happened
Despite reports of not being overly optimistic about their meeting, Juncker and Trump reached a deal to avoid a full-blown trade war, including the agreement to certain concessions.
They agreed to lower industrial tariffs on both sides, as well as increase LNG exports and soybeans to Europe. Juncker said the two agreed not to impose any new tariffs while talks take place.
The Dow Jones Industrial Average closed at 25,414.10, while the S&P 500 closed at 2,846.07.
Why It's Important
"When thinking of the distribution of possible outcomes from the current trade tensions, news of EU concessions would increase the baseline of still-free and fairer trade, lower the 'left tail' risk of a damaging full blown trade war, and boost the 'right tail' of a 'Reagan Moment' for the international trade regime," economist Mohamed El-Erian told Benzinga.
This deal makes trade easier and more encouraged for both parties.
"The U.S. and the EU account for 830 million people and more than 50 percent of global GDP. If we team up, we can make our planet a more secure and more prosperous place," Trump said.
What's Next
"We are starting the negotiation right now but we know very much where it's going," Trump said.
Automakers took a big hit Wednesday following the release of Q2 earnings.
Shares of Fiat Chrysler Automobiles (NYSE: FCAU) dropped 12 percent, while General Motors Company (NYSE: GM) fell almost 5 percent. Shares of Ford Motor Company (NYSE: F) dropped more than 3 percent in after-hours trading. Each company reported the tariffs on products like steel and aluminum to be responsible.
Related Links:
Trump's Bailout For Farmers Caught In The Trade War: What You Need To Know
GM's Q2 Hit By Steel Tariffs; Currency, Commodities Primary Earnings Drivers For 2018
View Comments and Join the Discussion!
Posted-In: Government News Regulations Eurozone Politics Global Top Stories Markets Best of Benzinga