GM's Q2 Hit By Steel Tariffs; Currency, Commodities Primary Earnings Drivers For 2018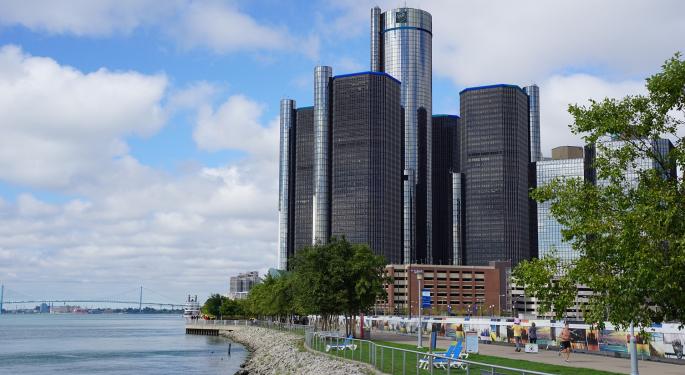 General Motors Company (NYSE: GM) plunged more than 6 percent Wednesday after missing second-quarter bottom-line estimates by about 2.7 percent. But management was "reasonably pleased" with the broader performance.
"The headline would be we delivered very solid results at an enterprise level despite some fairly significant macro challenges that have been building as we've moved through the year," CFO Chuck Stevens said Wednesday.
Income of $2.4 billion was supported by a record $600 million in China equity income and a GM Financial record of $500 million adjusted earnings before taxes.
Not everything went as planned, though.
What Management Is Concerned About
Commodities saw continued price increases that derailed GM's pace toward 10-percent full-year profit margins. Considering the volatile and uncertain macro situation, management adjusted full-year margin guidance to between 9 percent and 10 percent.
North America, despite a "solid quarter" of $2.7 billion in adjusted EBIT and 9.4-percent margins, absorbed most of the commodity risk and ultimately underperformed expectations.
Meanwhile, international currency underwent "significant devaluation," with declines in Brazil and Argentina creating particular headwinds. The challenge in South America drove year-over-year performance deterioration in GM's international markets.
"Frankly, we expect some of these headwinds to continue into the second half of the year, both commodities and foreign exchange primarily in South America," Stevens said.
The Effects Of Trade Policy
As Stevens said, index commodities are a primary driver in 2018.
"The biggest challenges that we're having right now is in raw materials, so that would be input steel, aluminum, and it goes across the board," he said. "Fuel prices are up, so that's impacting logistics, that's a raw material input, resins are going up because of higher oil prices, but the biggest driver at least in 2018 is really steel and aluminum."
GM is working to mitigate the direct and indirect effects of such price increases.
"Certainly there will be pressure on a go-forward basis for the non-index suppliers that have these raw material inputs with increased prices, and that's something we're going to have to address on a one on one basis," Stevens said. "We have a number of levers that we can pull there looking across the value chain, helping the suppliers optimize productivity, even so far as changing sourcing footprint, but I would say today and for 2018 that's not a material headwind, that's the index side of the house."
Expectations For The Second Half
Stevens celebrated "very strong performance" in China with stronger mix than expected, a benign pricing environment and favorable foreign exchange. But the conditions may be short-lived.
"I think that's going to moderate in the second half of the year," he said.
Seasonality factors, launch and pricing challenges in the luxury segment, and devaluation of the renminbi are expected to impact second-half results, although Stevens anticipates full-year performance in line with or better than expected.
At the same time, GM likes South America and remains "full speed ahead" in the market. Management anticipates currency improvement after October elections, and the ongoing launch of an emerging-market portfolio with localized products is seen to mitigate currency exposure.
Finally, the company doesn't expect tariffs to impact domestic sales in 2018. In fact, it expects a robust year for the U.S. auto industry given consumer-emboldening tax reform, low unemployment, low interest rates, credit availability and strong household balance sheets.
"We're optimistic that as we work through some of these transitory issues from a macro perspective that we're going to continue to drive strong results," Stevens said.
The stock traded around $36.89 at time of publication.
Related Links:
Trump Threatens 20% Tariffs On EU Cars
This Day In Market History: General Motors Declares Bankruptcy
Posted-In: Chuck Stevens Steel tariffsEarnings News Guidance Top Stories Best of Benzinga
View Comments and Join the Discussion!