Detroit's Bankruptcy 5 Years Later: 'There's A Chance Here To Create A New Paradigm'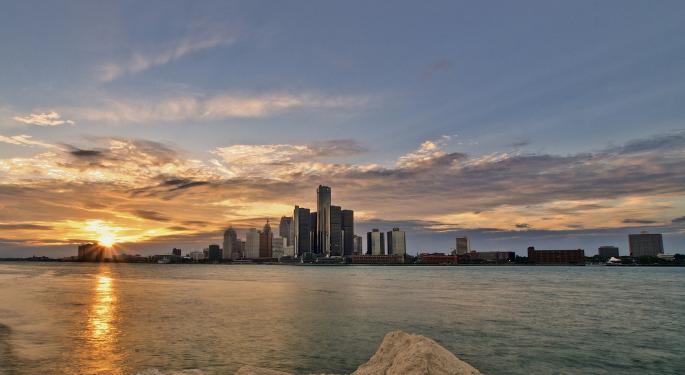 When Detroit went bankrupt five years ago, the city was "using credit cards to pay credit cards," in the words of former City Councilwoman Sheila Cockrel, who participated in a panel Wednesday that marked the anniversary of the filing of the $18-billion Chapter 9 case.
The bankruptcy's true beginnings were in the 1950s, when a decades-long mass exodus of residents from Detroit began, the former councilwoman said. And while the city's finances are more stable now, there's substantial work left to be done, said Cockrel, now the executive director of the nonprofit CitizenDetroit.
"We need to be very clear about A, the fragility of the city's economy, and B, there are fundamental structural divisions in the city that have not yet been addressed."
'No Roadmap' For Municipal Bankruptcy
Detroit eliminated $7.2 billion in debt in bankruptcy court, John Naglick, the city's chief deputy CFO, said at the discussion, which was organized by DBusiness magazine and presented by the accounting firm Plante Moran.
The largest sacrifice came from retirees, Naglick said: $3.8 billion of the debt reduction came from post-employment benefit liabilities, $1.7 billion came from pension cuts and $1.3 billion came from haircuts to city debt.
"There are still 30,000 retirees that are counting on getting paid those reduced benefits for the rest of their lives," Naglick said. "Being on those pension boards is a big responsibility."
The crux of the bankruptcy case was the "Grand Bargain," in which $816 million was donated by foundations, the Detroit Institute of Arts and the state to lift the funding level of the city's pensions. The deal prevented the sale of DIA art and lessened the impact on retirees.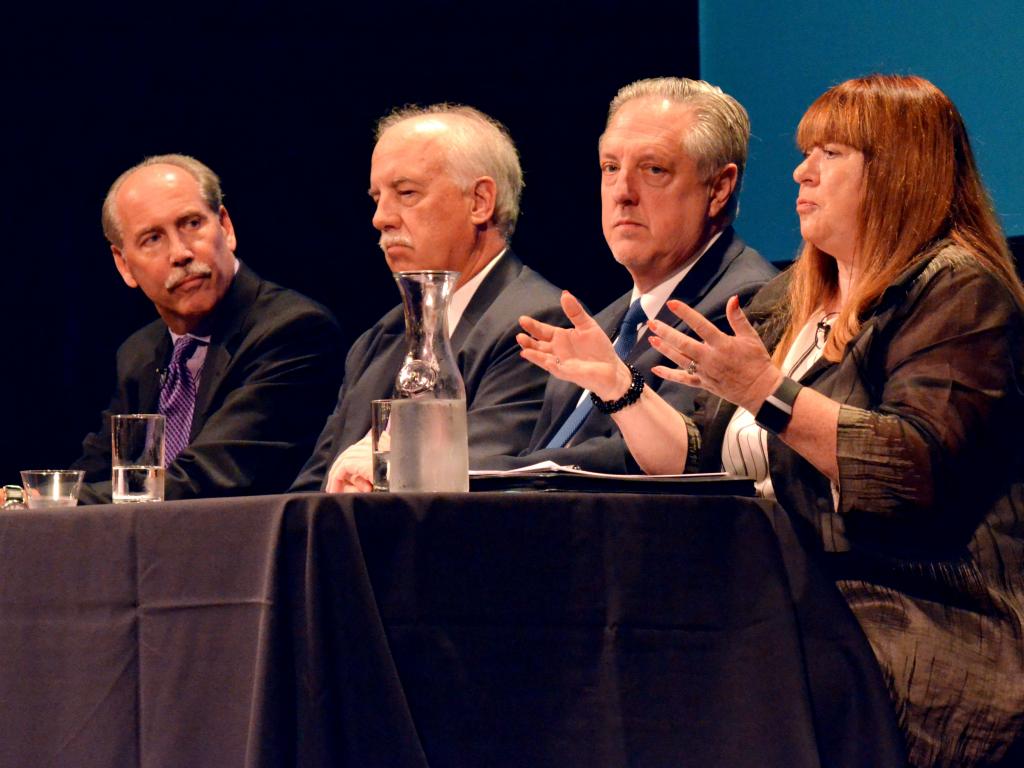 Plunkett Cooney attorney Doug Bernstein, left, consultant Pat O'Keefe, Detroit Chief Deputy CFO John Naglick and Citizen Detroit Executive Director Sheila Cockrel discuss the city's bankruptcy on Wednesday at the Gem Theatre. Photo by Dustin Blitchok.
Pat O'Keefe, founder and CEO of the consulting firm O'Keefe, said his criticism of the Detroit bankruptcy is that it missed an opportunity to structurally fix the city's property tax base and capitalize on 88,000 city-owned vacant parcels.
"The city's survival is going to depend on tax base. Plain and simple. The inability at this juncture to develop that is going to slow [it] down."
Doug Bernstein, a bankruptcy attorney at the firm Plunkett Cooney, said municipal defaults are so rare that he'd never read Chapter 9 of the bankruptcy code after three decades in practice until Detroit's filing.
"It's not taught," Bernstein said. "The problem for anyone involved in a municipal bankruptcy is there's no roadmap."
Two Detroits
George Orzech, a retired Detroit Fire Department battalion chief who serves on the city's Police and Fire Retirement System board, was in the audience for Wednesday's discussion at the Gem Theatre.
When asked if he felt the city's bankruptcy — which ended after 17 months on Dec. 10, 2014 — was an equitable settlement, Orzech shook his head.
"How do you equate art with people's health and people's lives?" Orzech said, referring to the city-owned Detroit Institute of Arts pieces that were at stake.
Cockrel ended the panel on a cautiously optimistic note, name-checking Ford Motor Company (NYSE: F)'s purchase of the landmark Michigan Central Station and downtown development while pointing out that poverty, crime and lack of opportunity continue to permeate many neighborhoods.
"The renaissance story is fabulous. I think Ford's move here is an iconic move for the city and for them. There's a chance here to be able to create a new paradigm for bringing back a city that has been in decline," Cockrel said.
"It's gonna require dealing with the reality that there are two Detroits. We can paper over it if we want, but there are two Detroits."
Related Links:
From 'Ellis Island' To Graffiti Canvas: The Story Of Ford's Newly Acquired Michigan Central Station
Detroit's Tallest Building Breaks Ground: 'This Is Going To Be A Site Of Our Recovery'
View Comments and Join the Discussion!
Posted-In: bankruptcy DBusiness Doug Bernstein John NaglickGovernment News Events Top Stories Best of Benzinga