3 Problems With General Motors Company Moving Cadillac To New York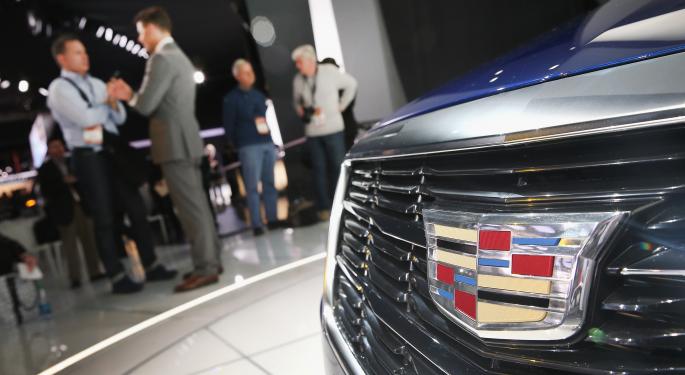 Earlier this week, General Motors Company (NYSE: GM) announced that Cadillac, its luxury car brand, is breaking off into a separate business unit and moving its headquarters to New York.
It's part of Cadillac President Johan de Nysschen's plan to rebrand the company. He hopes that the move will help bring the brand to a more international level and appeal to younger buyers, according to The Detroit News.
"Cadillac has been very much in the doldrums in terms of sales," AutoTrader.com analyst Michelle Krebs told Benzinga. "He's shaking things up."
See Also: What Decreased Italian Wine Production Means For The Global Wine Industry
It remains to be seen if moving the headquarters will truly help bolster the carmaker's brand and auto sales. Benzinga reached out to some auto experts, who pointed out some immediate issues with moving the brand away from its home.
Location Doesn't Affect Other Luxury Giants
While moving the headquarters to New York might provide Cadillac access to a talent pool of people in terms of advertising and marketing, Edmunds.com Senior Editor Ed Hellwig doesn't think the location of a carmaker's headquarters makes that big of a difference.
"If you look at the competitors they are trying to go against -- BMW, Audi -- they're all based in medium-sized industrial towns in Germany," Hellwig told Benzinga. "They're not based in London or Paris or hip places like that, and they do just fine."
BMW and Audi are located in the German cities of Stuttgart and Ingolstadt, respectively, both of which Krebs called "gritty factory towns."
"I don't think the customer gives a darn where the headquarters is," she said. "It's just that BMW, Mercedes-Benz and Audi have built these images of being the brands that people want."
Cadillac to Detroit: "We're outta here." GM's poshest brand in slump, leaves gritty Motown for glitzy Manhattan http://t.co/gqRM0SyP3t @WSJ

— John Stoll (@johndstoll) September 23, 2014
It Hasn't Worked In The Past
Back in 1998, Ford Motor Company (NYSE: F) moved the headquarters of its Lincoln-Mercury division to Southern California. The automaker was hoping to gain more of the luxury market share in California, The New York Times reported, and better understand the trend-setting West Coast market.
Only four years later, Ford announced it would move its luxury brand's headquarters back to Michigan. Lincoln's sales had fallen 5 percent after the move, according to the Los Angeles Times, and Mercury's dropped roughly 28 percent.
"It didn't take long [for the brand to move back to Michigan]," Hellwig said. "There's a lot of speculation as to why it didn't work."
Logistical Issues
GM said in its press release that the new headquarters won't affect technical product development teams, manufacturing or assembly operations.
The Detroit News also reported that most of Cadillac's operations are still with GM at Detroit headquarters and that many of those operations will remain at the company's tech center in Warren, Michigan.
This means that the company will be split between New York and Detroit.
"Headquartering Cadillac away from the General Motors headquarters in Detroit might present some logistical issues," Kelley Blue Book Executive Market Analyst Jack Nerad said.
Hellwig agreed. He said the move will create problems that weren't there before.
"Even as simple as communication between departments," Hellwig said, "whereas before, they could just drive across town."
Follow Brianna Valleskey on Twitter for the latest news and updates: @bri_valleskey.
View Comments and Join the Discussion!
Posted-In: AutoTrader.com Cadillac comments DetroitTravel Top Stories Tech General Best of Benzinga