Why Asheville, North Carolina Is America's Perfect Little City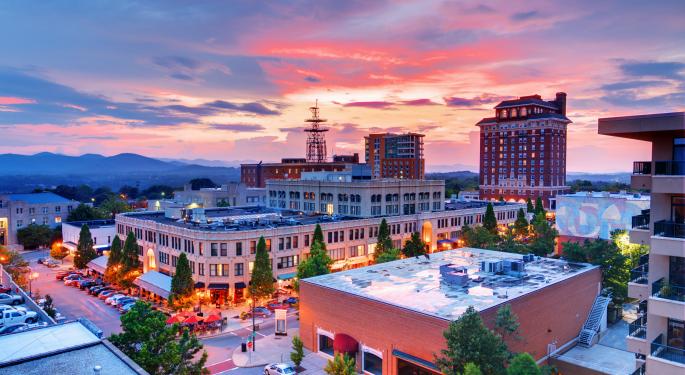 Looking for a new vacation spot?
Tucked in the heart of beautiful, sprawling mountain ranges is Asheville, North Carolina, a town regarded as one of the best places to live by many, with high marks in both quality of life and majestic scenery.
Asheville's attractive landscape is complimented by a vibrant downtown that bursts with street performers, buildings covered in alluring art, and surreal sculptures that add a completely whimsical element to the bustling atmosphere of local shops, restaurants, and breweries.
Like music? Asheville's has a thriving local music scene with no shortage of venues that house a span of genres.
There's the infamous Orange Peel Social Aid & Pleasure Club, a venue that draws in major national artist for its quality of sound and feel, and Echo Mountain Recording Studio, where a distinct style attracts acclaimed artist to its recording booths, and the Moog Music factory, where the vision of electronic instrument inventor Bob Moog lives on.
Asheville has also been home to Moogfest since 2010, an electronic music festival that's featured Time Warner's (NYSE: TWX) The Magnetic Fields, Cold Cave, Crystal Castles, Passion Pit, Devo, and Sony's (NYSE: SNE) MGMT, The Flaming Lips, Brian Eno, St. Vincent, and Girl Talk among others. The festival is held towards the end of October, typically ended near or on Halloween, and honors Moog's life and legacy.
Pritchard Park also invites people to join the Friday's evening drum circle, which usual includes hundreds of percussionists for hours jamming and grooving when weather permits.
Long periods of enjoying music can bring on thirst and hunger, and that's a perfect excuse to go visit some of the many breweries, wine bars, and restaurants , such as President Obama's favorite, 12 Bones Barbecue, or the rustic, welcoming feel of Jack of the Wood Pub, or if you like desserts, the Chocolate Fetish, where European-style chocolates bring in lines of costumers that go out of the door.
Related: Hard-To-Fill Jobs You Can Get Right Now
There's no shortage of art either.
Galleries host art crawls from the beginning of spring through to the edge of winter, and the River Arts District houses art studios where you can watch artist in action, and view the many elaborate murals that run along the French Broad river. Their art museum in downtown is also worth visiting, a charming building that acts as a powerhouse of expression.
Visitors can entertain (or traumatize) the kids by visiting (or reenacting scenes at) the filming locations of Hannibal, The Hunger Games, products of Scholastic (NASDAQ: SCHL) and Lionsgate (NYSE: LGF) and Dirty Dancing. Or, if you prefer the page to the screen, experience literary history firsthand with a stroll through the Old Kentucky Home boarding house, the childhood home poetically described by the influential Thomas Wolfe in his novel "Look Homeward, Angel."
If none of these flavors fit your taste buds for a good time, then take a bite out of the rich nature that's all around the heavenly city, with hiking, zip-lining, and river activities (when it's warm enough) galore in Asheville and the surrounding areas. All of which will look even better when Asheville's famous foliage sets into the already stunning area.
At the time of this writing, Jason Cunningham had no position with the mentioned entities. Visit Jason on Twitter @JasonCunningham.
Posted-In: 12 Bones Barbecue Asheville Bob Moog North Carolina The Hunger GamesTravel Hot General Best of Benzinga
View Comments and Join the Discussion!