Just Like The King's Jumpsuit, The Top 20 Elvis Movies Adjusted For Inflation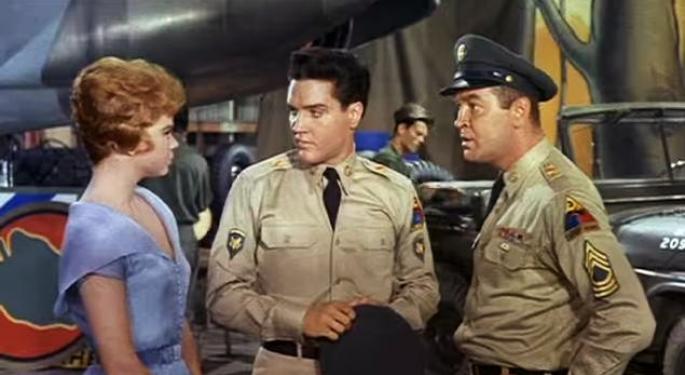 What kind of cash would Elvis Presley, who died exactly 40 years ago, bring in at the box office if he'd made his movies today? Pure conjecture, since tickets and the dollar itself were much cheaper in the King's heyday.
Global distribution also wasn't as seamless as it is now. That's not stopping us from taking the top 20 highest-grossing Elvis films and adjusting for inflation:
Pure Royalty: The King's Cinema
'King Creole': $48.20 million
Directed by "Casablanca's" Michael Curtiz, Elvis played a guy who gets pressured by the mob, which wants to exploit his musical talent. His co-star was Carolyn Jones, who went on to play Morticia in "The Addams Family." 1958.
'Paradise, Hawaiian Style': $54.60 million
Presley plays a reckless airline pilot who gets fired, then goes into the helicopter business, where he becomes a reckless chopper pilot. 1966.
'Speedway': $55.20 million
Elvis is a NASCAR racer who gets into tax trouble. Nancy Sinatra plays the IRS agent who gives him an amorous audit. Elvis got $850,000 and a whopping 50 percent of the gross. 1968.
'It Happened At The World's Fair': $66.50 million
Elvis plays a crop-dusting pilot who runs into financial trouble. One of his love interests is Yvonne Craig, who would go on to play TV's "Batgirl." Kurt Russell plays a childhood version of ... Kurt Russell, who would go on to portray Elvis in an acclaimed 1979 television movie, which was directed by John Carpenter. 1963.
Related Link: Top Gun Too? 6 Films That Had Sequels Long After The Original
'Tickle Me': $67 million
Written by a duo behind the "Three Stooges" shorts, Presley plays an jobless rodeo star who tries to make ends meet by singing in a saloon, where he's spotted by Julie Adams, who offers him a job at her ranch, which turns out to be a fitness spa for models and actresses. Adams would go on to star as Sheriff Andy Taylor's girlfriend in "The Andy Griffith Show." 1965.
'Kid Galahad': $68.20 million
Presley plays a boxer who's manager gets into trouble with the mob. Elvis has to take a dive to pay off his manager's debts, but wins anyway and promptly retires. Presumably, the manager is garroted by gangsters off-camera. 1962.
'Wild In the Country': $69.50 million
Elvis beats up his drunken brother, winds up getting prosecuted and then redeemed with the help of Tuesday Weld. He goes to college and becomes a writer. 1961
'Flaming Star': $69.80 million
Elvis plays a half-Texan, half-Native American torn between the two cultures, but finds peace with Barbara Eden. 1960
Girl Happy': $70.90 million
Elvis plays a nightclub singer who takes a much-needed break to go party in Fort Lauderdale. Billed as a beach party flick, Elvis never takes his long-sleeve shirt off, even while water-skiing. 1965
'Kissin' Cousins': $74.30 million
In the heat of the Cold War, Elvis plays a soldier who returns to his mountain roots and finds his identical cousin, also played by Elvis. The kissing part comes in when a pair of female cousins take a liking to the duo. Elvis actually had a twin who died at birth. 1964
'Fun in Acapulco': $78.40 million
Pretty much what the title says, co-starring the first Bond girl, Ursula Andress, from "Dr. No." Elvis plays a lifeguard turned cliff-diver who sings. 1963
'Roustabout': $80.70 million
Elvis plays a singer and a troublemaker who rides the now-legendary Honda 305 Superhawk, the bike that introduced Americans to the art of Japanese industrial design. He gets a job at a carny.
'Follow The Dream': $86.70 million
Essentially "The Beverly Hillbillies" meets "The Andy Griffith Show" with mobsters. On set, Elvis met an 11-year-old Tom Petty, whose uncle was involved in the production. 1962
'Girls! Girls! Girls!': $106 million
Apparently, they just gave up trying to come up with original titles. Elvis plays a penniless fisherman in Hawaii. Actress and pin-up queen Stella Stevens plays his gal.
'Viva Las Vegas': $132 million
Elvis meets his match in Ann-Margret, who out-acts, out-sings and out-dances the King. 1964
'G.I. Blues': $150.1 million.
Elvis meets his match in Juliet Prowse, who also out-acts, out-sings and out-dances the King. 1960
'Blue Hawaii': $153 million
Elvis gets out of the army and returns to his beloved surfboard and girlfriend. Juliet Prowse was approached to star again, but her price was too high.1961
'Loving You': $159.1 million
Elvis plays a delivery man whose singing is discovered by a talent scout. This is Presley's first actual role as the headliner, like, art imitating life. 1957
'Jailhouse Rock': $167.7
Hijinks in prison. Presley helped choreograph the famous all-male dance scene. He plays a guy who kills another guy in a barroom brawl. The film was selected for preservation in the National Film Registry. 1957
'Love Me Tender': $183.9
The King's debut, he got third billing behind Richard Egan and Debra Paget. The title track was the first million-selling single. Presley plays a guy who marries his brother's girlfriend, thinking broheim died while fighting for the Confederates in the Civil War.
Elvis dies in a gunfight with some other rebels over some Union money. He's buried on screen, but his career was just kicking off. 1956
______
Image Credit: Elvis and Juliet Prowse in the film trailer for "G.I. Blues," 1960 By trailer screenshot (Paramount Pictures) - G.I. Blues trailer, Public Domain, via Wikimedia Commons
Posted-In: Ann-Margret Barbara Eden Blue Hawaii Carolyn JonesTopics Top Stories Media General Best of Benzinga
View Comments and Join the Discussion!