Brands Going Extinct In 2017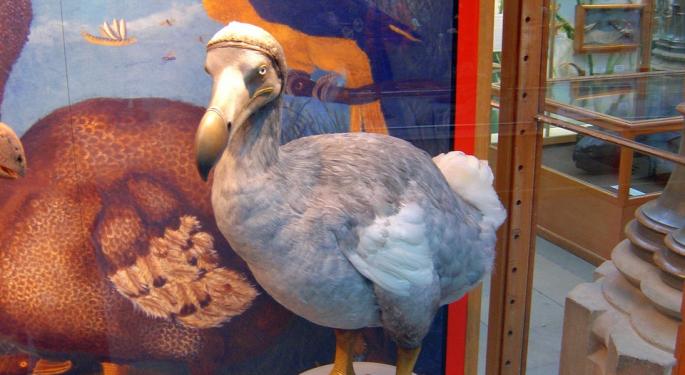 This article originally appeared on DriveWealth.
If you are an active reader of our blog, you know that we have discussed the struggles retail companies have faced over the past few years. While the biggest challenge has come from the boom in E-commerce growth, these struggles have occurred for various reasons and have effected many different types of companies. As result, some of the brands that we have become very familiar with may be disappearing in 2017. Here are a few examples:
The Dodge Viper
Many auto manufacturers rely on their "staple" and most well-known cars to keep their business going. For instance, Toyota Motor Corp (ADR) (NYSE: TM) has had great success over the years with the Camry, Honda Motor Co Ltd (ADR) (NYSE: HMC) with the Civic, and Volkswagen with the Jetta. However, these same manufacturers also like to meet the needs of car enthusiasts by offering specialty vehicles that grab their attention. This is the case for the Dodge Viper. For the past 25 years, the Dodge Viper has been one of the most widely recognizable names in sports cars but it looks like it will be coming to an end in 2017. Since the most recent models have an MSRP greater than $80,000, it was to be expected that its sales would not be as high in volume as the much more affordable options. That being said, through the first 11 months of 2016 only 571 Vipers were sold in the United States and 48 in Canada. Consequently, Chrysler announced that the 2017 Viper will be the last model to be produced.
Sports Authority
On March 2, 2016 with more than $1 billion in debt accumulated, Sports Authority filed for Chapter 11 bankruptcy. At the time, Sports Authority still had an optimistic outlook despite their plan to close 140 of its more than 450 stores. For reference, that accounts for roughly one out of every three of their locations across the United States. Unfortunately for Sports Authority, however, they were not able to successfully reorganize under bankruptcy protection forcing them to close all stores. Moving forward, the Sports Authority brand has been purchased by Dicks Sporting Goods (NYSE: DKS) with the inclusion of the name as well as additional intellectual property. The deal was made for $15 million and occurred at an auction. As a consumer, it may seem that the only thing missing will be the brand name since Dick's Sporting Goods will be taking over and most products previously purchased at Sports Authority will likely still be found at their stores. Regardless, in 2017 we say goodbye to Sports Authority.
Yik Yak
During September of 2014 Yik Yak was the third most downloaded iOS application in the United States. For those unfamiliar, Yik Yak is a message board application that uses location-based information to allow users to post messages anonymously that can be read by other nearby users. Similar to many other social media applications, Yik Yak found its early success on college campuses where users could post about events, important (or not so important news / information), or just general gossip around the school. Although the application once displayed signs of growth, by April 2016 it had fallen outside of the top 1,000 downloaded iOS applications. Further, their chief technology officer left around that time, and in December Yik Yak laid off nearly 60% of its total workforce. There has been no official announcement yet, but the once booming application does not show signs of making a miraculous comeback and at this rate may not make it through 2017.
It seems that for some brands 2017 will be a harsh reminder of how competitive markets can be across all lines of business. While some brands seem to find success repeatedly, standing the test of time, many others fall by the wayside and eventually fold under pressure. As an investor, it is important to pay attention to these trends. Staying informed may even lead to triumphant returns in the future, whether it is through taking long positions in thriving companies or short positions in those coming up…well… short. Either way, knowledge is powerful and although you might miss a brand once it is gone, its departure could be useful as an investment opportunity!
Posted-In: DriveWealthTopics Travel Sports Markets Tech Media General
View Comments and Join the Discussion!