Have You Ever Wondered What Specific Time Internet Trolls Come Out?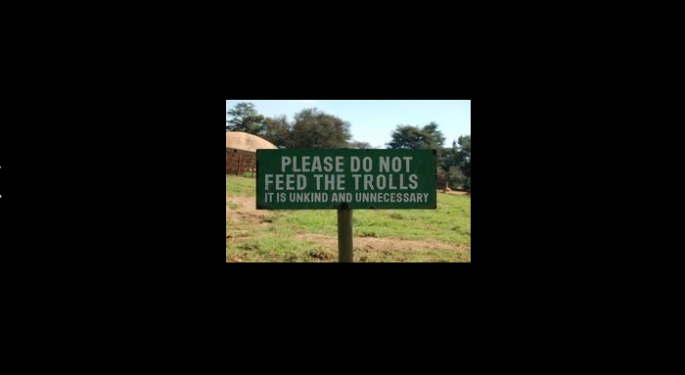 While you sleep, the internet trolls are in full force.
Urban Dictionary defines an internet troll as a person who unleashes "one or more cynical or sarcastic remarks on an innocent by-stander, because it's the internet and, hey, you can. And according to The Wall Street Journal peak operating time for trolls is Sunday and Monday nights, from 10 p.m. to 3 a.m. ET.
WSJ, citing research by computer scientists from Stanford and Cornell universities, noted that internet trolling has now become so ingrained into the internet that it has prompted social media and internet companies like Facebook Inc (NASDAQ: FB) to shape its elaborate privacy controls to counter trolls. Moreover, Alphabet Inc (NASDAQ: GOOG) (NASDAQ: GOOGL) and its Google unit use advanced artificial intelligence technologies to combat trolling in its platforms.
The problem is that most of the trolling comes from people who actually haven't trolled before. As such, it is hard to put into place measures to combat the trolling, which can turn into harassment, stalking, threats, violence and other serious offenses.
Also, an individual can turn into a troll if they themselves are trolled elsewhere or seeing someone else trolling in a thread — regardless of an article's content.
As such, the researchers concluded that it is easy to see how trolls either inspire or infect others. In fact, this is similar to a real-life mob but on the internet it is much easier for people to say or do something that they would never dream of doing or saying in real life.
See Also: Social Media And Anti-Trends: Trip Chowdhry Explains The Phenomenon, Provides Insight
Related Link: Is Twitter Fighting A Losing Battle Against Trolls?
Related Link: Facebook Finally Addresses Live Streaming Of Suicides Via FB-Live
Image Credit: By Patrick (Patrick, Africanus or de:Afrikaaner) [Public domain], via Wikimedia Commons
Posted-In: Internet Trolls social media Trolling Wall Street JournalTopics Media General Best of Benzinga
View Comments and Join the Discussion!