Is Twitter Fighting A Losing Battle Against Trolls?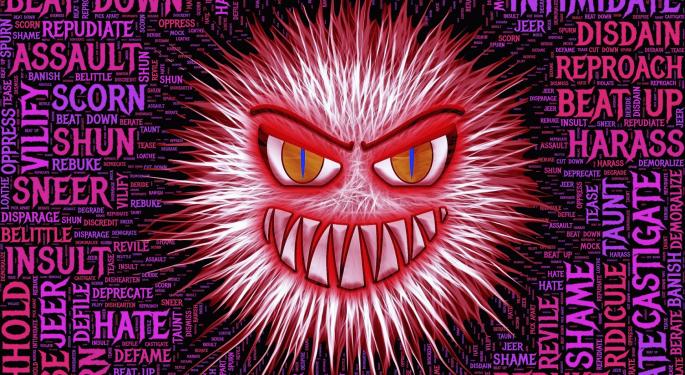 Free speech is a double-edged sword, and social media and internet companies like Facebook Inc (NASDAQ: FB), Alphabet Inc (NASDAQ: GOOG) (NASDAQ: GOOGL) and Reddit know all-too-well how sharp that blade can be.
But the poster child for online trolling and harassment is Twitter Inc (NYSE: TWTR). For years, Twitter boasted that its platform was "the free speech wing of the free speech party." However, Twitter's "anything goes" approach resulted in the rise of a culture of harassment, hate speech and bullying.
Things have gotten so bad for Twitter's brand that its reputation as the trolling capital of the internet is hurting its business. Salesforce.com, inc. (NYSE: CRM) CEO Marc Benioff said Twitter's trolling problem played into his decision not to pursue a buyout. Walt Disney Co (NYSE: DIS) was reportedly also discouraged from a buyout due to Twitter's bullying problem.
And of course, advertisers certainly think twice before displaying their brand next to potential hate speech.
Newest Efforts
This week, Twitter announced renewed efforts to combat its reputation as a trolling mecca. The new initiative includes three new policies. First, Twitter is cracking down on allowing users that are permanently banned for abuse and harassment from simply creating new accounts. Second, the company is working on a "safe search" option similar to the one that Google includes on its search engine. Finally, Twitter is working on a way to collapse tweets that may contain sensitive or offensive language. The company notes these messages will still be accessible to users who wish to see them.
Twitter is trying to walk a thin line between freedom of speech and safety.
"We stand for freedom of expression and people being able to see all sides of any topic," the company's update reads. "That's put in jeopardy when abuse and harassment stifle and silence those voices."
Posted-In: Internet Stocks Marc Benioff Reddit social mediaNews Media General Best of Benzinga
View Comments and Join the Discussion!