Hulk Hogan's Biggest Business Lesson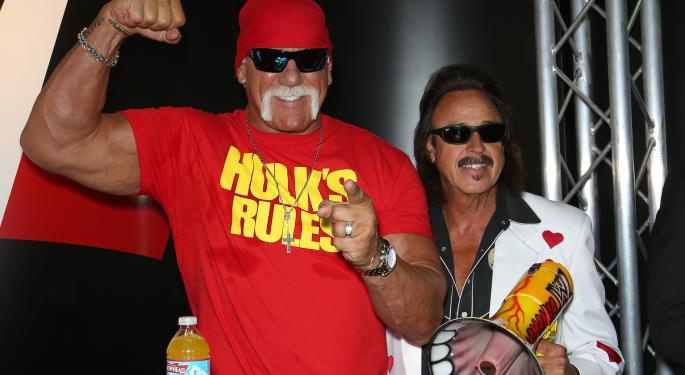 Hulk Hogan took in-ring bumps for more than 30 years, and his business advice is about as simple as a headlock.
"Save your money, save your money and save your damn money," Hogan, real name Terry Bollea, recently told the Orlando Business Journal.
The World Wrestling Entertainment, Inc. (NYSE: WWE) legend has dabbled in several business ventures since leaving the ring full-time. He also went through a messy divorce in the last decade. The divorce reportedly left his ex-wife Linda with $7.44 million, while the Hulkster received just $2.97 million.
Falls And Triumphs
Hogan, 61, told "Good Morning America" in 2011 that, due to his "lavish" lifestyle, he lost "hundreds of millions."
He went on, "There were houses being bought, cars being bought, vacations for family members...There were eight, nine, 10, 11 of them moving into our house."
Related Link: Whatcha Gonna Do When Hulkamania & Cenation Run Wild On Silicon Valley?
Hogan was asked by OBJ the biggest business challenge he has faced. He replied, "Making the transition from actually wrestling to trying to figure out how to generate revenue without physically getting in the ring. I had to figure out how to use my brand and exploit the 35 years of goodwill with the world and turn that into a money making machine."
Hogan touched on his divorce, as well as a $50–$60 million civil suit as result of failed back surgeries. "I had to figure out how to take the brand, make it work and do stuff I wasn't used to doing, such as open other businesses and other ventures."
Running Wild
Hogan's biggest run for WWE came from 1984–1992 when he was the company's top "babyface," wrestling parlance for the good guy; after a brief stop in Hollywood, he switched promotions and personas for a second life as a "heel," or bad guy.
He currently serves as co-host of WWE's "Tough Enough" series and acts a brand spokesman for the company. His wrestling career ran from 1977 to 2013 for several promotions. He has not actively wrestled in a WWE ring since 2006.
Posted-In: Hulk Hogan Orlando Business Journal Terry Bollea WWEEntrepreneurship Topics Personal Finance General Best of Benzinga
View Comments and Join the Discussion!