How 5 Fast Food Companies Let You Order Ahead With An App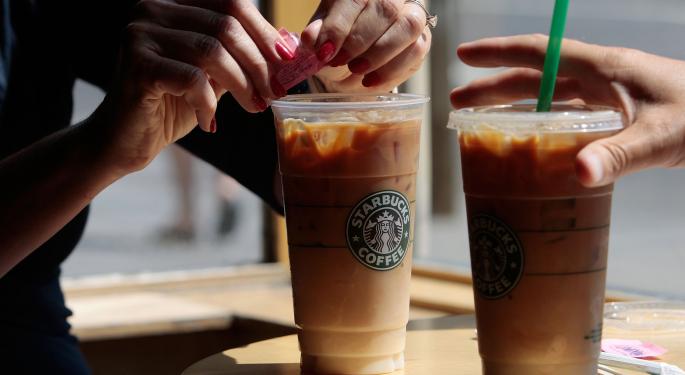 As fast as fast food can be, companies and customers want it faster.
Many restaurants boast quick service, but also long lines at rush hour times. To combat this, several companies have started to offer customers the ability to order and even pay ahead through an app so they don't have to wait at all upon entering a store.
Starbucks Corporation (NASDAQ: SBUX)
Starbucks has announced that by 2015, it will be allowing its customers to order and pay with their mobile phones before they reach the store. The new service will be introduced in Portland, Oregon, later this year before its countrywide rollout.
The company already has a mobile payment app. It rewards and encourages brand loyalty by allowing customers to earn points for every purchase made, and then to cash those points in for food and drinks.
Related Link: 6 Impressive Technology Innovations From Domino's
The app doesn't let customers pay ahead, but Starbucks said that 15 percent of purchases are made on mobile devices.
Dunkin Brands Group Inc (NASDAQ: DNKN)
Dunkin Donuts announced in September that it will be testing mobile ordering throughout the fourth quarter, and if all goes well, it will roll out a mobile ordering update to its app in 2015.
As Scott Hudler, VP of Global Consumer Engagement at Dunkin said, "With the growth of mobile and all of the great things it can do today that we couldn't do two years ago, mobile ordering is the logical next step. For the consumer, there is a huge benefit to skip the line, and improve order accuracy and speed. For us, there's the throughput and anything we can do to improve throughput we're excited about."
Throughput refers to the number of items that pass through a system or process, meaning that Hudler believes a mobile app could create more demand for Dunkin, as well as drive downloads of the Dunkin app.
Chipotle Mexican Grill, Inc. (NYSE: CMG)
Chipotle already offers its customers the ability to order and pay ahead of time through its mobile app. The burrito restaurant has gone even deeper with its mobile experience with a game called "Chipotle Scarecrow" that doubles as an advertisement for Chipotle's fresh ingredients and responsibly raised meat. It also works as a rewards program, allowing ace players the opportunity to win free burritos by playing the game.
Domino's Pizza, Inc. (NYSE: DPZ)
The pizza company has been in the mobile game for a while now and said that a full 40 percent of its orders come from the Internet and mobile. Now, Domino's has taken its mobile app delivery game to the next level by introducing voice-activated ordering system named "Dom."
The system, which has been in beta since June and launched properly earlier this month, allows customers to avoid scrolling through lists and options by talking with Dom.
McDonald's Corporation (NYSE: MCD)
Certainly, the world's largest fast-food chain must have mobile on the mind as well? Well, McDonald's began testing mobile ordering back in June in 22 locations in Columbus, Georgia, and on September 15, the company rolled out the app for consumers. The catch? The app only works for participating locations in Columbus as well as Champaign, Illinois; reviews for both the Android and iOS versions are not great at this point.
View Comments and Join the Discussion!
Posted-In: Android Chipotle Fast Food iOS mobile appsRestaurants Tech General Best of Benzinga