3 Companies That Could Become The Kinko's of 3D Printing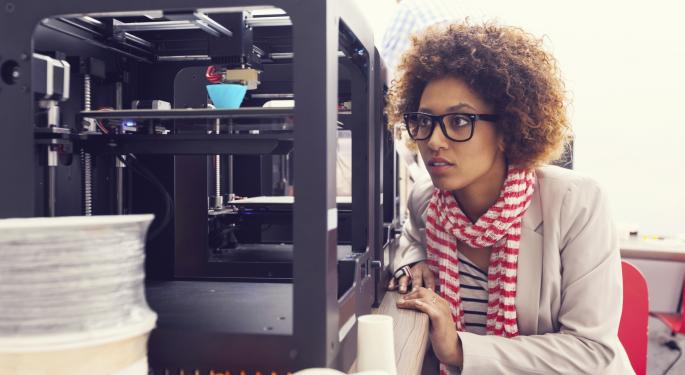 Poised to be the next big thing, 3D printing received a boost recently when logistics company United Parcel Service, Inc. (NYSE: UPS) announced it would increase the number of its stores with 3D printing services. UPS's move is significant because 3D printing as a service is mostly offered via the web using industrial machines.
Given its current complexity, 3D printing is a niche activity largely used to produce complicated objects. Turnaround times are long compared to paper printing and rates vary (depending on the printed objects' complexity). Consumer 3D printing machines require a significant learning curve.
All of these factors inflate costs to produce an object using 3D printing and slow consumer adoption.
Related Link: Printing With Metal May Be The Key To Growth For 3D Printing Stocks
UPS's strategy leverages the company's store network. A graphics expert at each store also offers design services to 3D printing enthusiasts and newbies who are not familiar with the technology. Launched last year at six stores, the 3D printing service has expanded at a rapid clip to 45 and, as of yesterday, 100 planned locations.
Here are two companies that could take a page out of the UPS playbook and offer similar 3D printing services.
FedEx Corporation (NYSE: FDX)
With more than 1800 locations, FedEx Kinko's is already a popular destination for printing, surfing the Internet, and collecting parcels and supplies.
Students and professionals use its services to print, photocopy, or ship important documents and supplies. This is a valuable target demographic because they are technology enthusiasts and concerned with efficiency. The company could upsell 3D printing services to this demographic through demonstrations and promotions.
If it did, then FedEx Kinko's could literally be the Kinko's of 3D Printing.
Wal-Mart Stores, Inc. (NYSE: WMT)
The main case for Walmart's entry into the 3D printing services rests on price. With its purchasing clout and extensive store network, the Bentonville-based retailer could drive down prices for the service and the product (3D printers).
The company already offers an assortment of services, such as photo printing and pharmacy services, through partnerships with retail chains. It could bundle 3D printing with its photo printing service, which could provide a lead-in for introducing mainstream customers to 3D printers.
Media attention has already informed mainstream consumers about the possibilities of 3D printers. Consumer adoption could increase as access to the service enables them to print a variety of products. Given its scale, Wal-Mart's entry into the service segment could propel rapid adoption and proliferation.
Walgreen Company (NYSE: WAG)
Like Wal-Mart, Walgreens has an extensive store network and physical presence. In addition, the Illinois-based company is also a popular destination for retail medical supplies.
That product line could lead to an interesting riff on one of the most important use cases for 3D printers: medical supplies. 3D printing can be used to produce a variety of medical products from contact lenses to prosthetic legs. Walgreens could serve as a clearing house for such custom products.
Instead of waiting for expensive shipments from niche suppliers, customers could walk to their nearest Walgreens (with prescriptions or necessary documents) for custom medical products. Medical students could also use the store to produce prototypes for college.
Posted-In: 3D Printing fedex Kinko's ups WalgreensTopics Tech General Best of Benzinga
View Comments and Join the Discussion!