Study: This Retailer Dominates Online Home Furnishing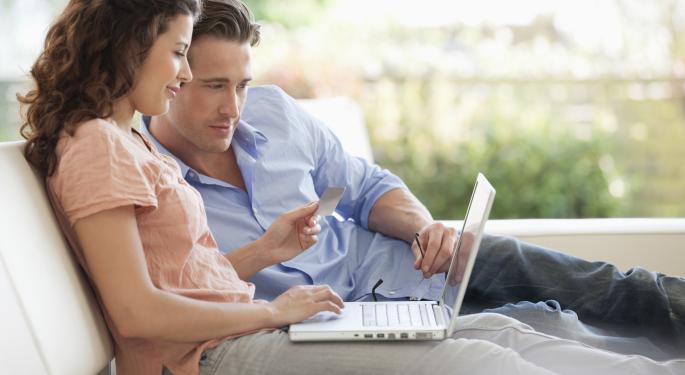 Online shopping is huge, but (for now) it is a relatively small part of the $220 billion home furnishing market--just 10 percent. With Millennials famous for shopping online and the online home furnishing market growing in double digits each year, smart retailers are setting up for future market share gains.
A recent study by Wells Fargo Securities and Fluid, "Home (.com) Is Where the Heart Is," profiled the online home furnishing shopping experience across several dimensions: inspiration, content, product information, searchability, payment/fulfillment/customer service, post purchase, and mobile experience.
While the results vary depending on the slice focused on, the list below shows which home furnishing retailers provide the best overall user experience and service. Reviewing the list and the reasons given for each ranking reveals one retailer dominates the rest: Williams-Sonoma (NYSE: WSM)
Related Link: Former Staples CEO Thomas Stemberg Weighs In On Today's Big Retailers
The Top 10
1. West Elm.
Shoppers prefer West Elm for its planning tools and registry app with product scanner.
2 Pottery Barn.
Search-ability, product information, content, originality, interactive room planner, and seamless return policy have this retailer #2.
3. Williams-Sonoma.
Inspiration and content rank at #3.
4. World Market – subsidiary of Bed Bath & Beyond (NASDAQ: BBBY).
Shoppers like its ship-to-store, store inventory lookup, in-store pickup, and free shipping on orders of $150 or more.
5. Crate & Barrel.
This ranking is based on the Crate & Barrel's ship-to-store, store inventory lookup, mobile-optimized site and app.
6. Bed Bath & Beyond.
Website functionality, and multichannel features push the store up the rankings, but it is losing share to Amazon.com (NASDAQ: AMZN) due to high overlap in branded categories like kitchen electronics and pricing.
7. Overstock. (NASDAQ: OSTK).
Shoppers appreciate its features, functionality, wide selection of videos, live chat, alternative payment options like Bitcoin and PayPal, free shipping on orders of $50 or more.
8. Room & Board.
The site inspires, but has no free shipping, next-day shipping, live chat, or delivery estimates.
9. Amazon.
Despite the site's searchability, payment/fulfillment/customer service strengths, it has poor "inspiration" and lacks content in the home category.
10. Heyneedle.
Shoppers like the gift messaging, payment options, free shipping for orders $50 or more, and post-purchase email coupon for $10 off future purchases.
Williams-Sonoma Dominates
Shoppers familiar with Williams-Sonoma realize it dominated this study. Others might dismiss the domination claim, pointing out that the store ranked #3. The answer is simple: Williams-Sonoma owns West Elm (#1) and Pottery Barn (#2), so Williams-Sonoma claimed all top three ranks.
Based on this study, it appears Williams-Sonoma has the best shot at capturing future market share in the largely untapped online home furnishing market.
Posted-In: Home Furnishings on line shopping Williams-SonomaTopics Trading Ideas General Best of Benzinga
View Comments and Join the Discussion!