Microsoft Surface Pro 2 Tablets Make NFL Debut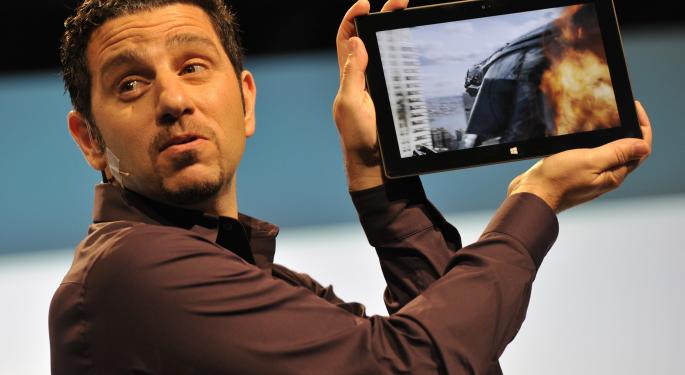 Microsoft (NASDAQ: MSFT) made its National Football League debut Sunday night.
Thirteen Microsoft Surface Pro 2 tablets will be on each NFL sideline during the 2014 season in light of the partnerships' Sideline Viewing System.
Coaches and players, specifically a team's quarterback, are used to looking at physical pictures printed off during the game. The use of tablets will allow almost up-to-the-second updates for coaches to analyze.
"We're going to make players a bit more efficient, a bit more productive," Microsoft Public Relations Manager Ryan Luckin said in IGN. "Typically you're looking at something that would take 20-30 seconds to get those paper printouts into the hands of players, into the hands of coaches. We've got that down to four or five seconds."
The five-year, $400 million deal between Microsoft and the NFL was announced last spring. The partnership also includes plans to use a next-generation Xbox game console for interactive viewing experiences for fans.
Related Link: The Top 10 Most Binge-Watched Programs
If a team's tablet system breaks down before a game, both teams will have to forfeit the technology for the duration of the game. However, if a team's system breaks down while a game is being played, the other team can still use it. The tablets have been built to withstand various weather elements (rain, snow and heat) that a football game can face.
Advancement could come in the future, but the devices will be used strictly for viewing pictures. This may be a nod to the old-school style of football, when teams would exchange game film with an opponent. The New England Patriot's 2007 spying scandal also brings to light the league and public opinion's stance on using film to take advantage of an opponent.
Sports leagues have had varied success with technological advancements. Professional and college football's first-down marker has been a pleasure for television viewers; the National Hockey League's "glowing puck" did not yield the same results.
Taking a cue from its peers, Major League Baseball adapted in-game replays in recent years to help correct potentially wrong rulings during the game.
As a leader in these advancements, the NFL and Microsoft could be in business for the long haul.
Posted-In: Microsoft MLB New England Patriots nfl Ryan LuckinTopics Tech General Best of Benzinga
View Comments and Join the Discussion!