Netflix Breaks Into Talk Show Realm With Chelsea Handler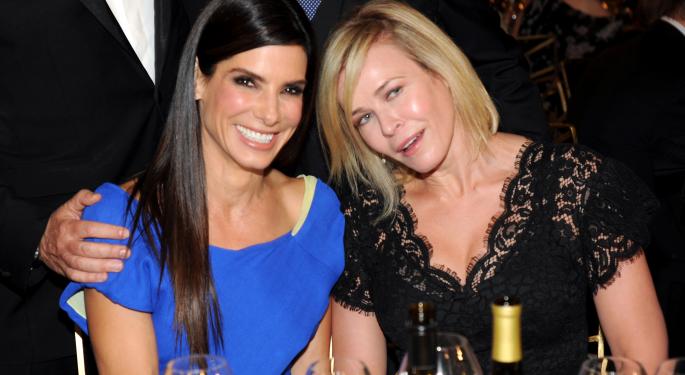 The most prominent woman in late-night talk-show history will be changing the game again.
Beginning in 2016, Chelsea Handler will bring her talk show to Netflix (NASDAQ: NFLX), a first for the ever-evolving streaming service.
Netflix will premiere Handler's first hour-long stand-up comedy performance on October 10, 2014. Handler will also create four new docu-comedy specials exclusively for Netflix, Variety reported.
Over the last decade, Handler has made a name for herself as an author and TV host discussing celebrities, pop culture and vodka.
"She'll be able to get away with more," Horizon Media's Brad Adgate told Benzinga. "I think it will be more provocative and envelop pushing."
Chelsea Lately will be wrapping up its seven-year run on E! when it concludes on August 24. Handler has said that she was looking for a change.
"Netflix is looking forward to re-imagining the late night talk show for the on-demand generation, starting with the late night part," Netflix Chief Content Officer Ted Sarandos said in a statement.
Late Night On Demand
Aside from Joan Rivers ill-fated 1980s run on Fox, the late-night scene has been virtually male-dominated. Handler and E!, a network partner of NBCUniversal, changed that in 2007.
Netlfix original series, such as House Of Cards and the second run of Arrested Development, are typically made available all at once -- a 13-episode season can be watched in one day. Could that change with Handler?
Related Link: Netflix and Verizon Continue To Throw Punches
"That's interesting...if they will binge her or not," said Adgate, who thinks Netflix might release perhaps five episodes per week.
Who Needs Ratings?
Chelsea Lately's ratings have been on the decline. After averaging over 900,000 viewers per episode - peaking at 1.8 million in October 2011 - the show dropped to 571,000 viewers in 2013. Ad dollars generated? About $30 million, according to Ad Age.
By contrast, The Tonight Show has averaged 4.3 million viewers since Jimmy Fallon took over hosting duties.
But in the Netflix universe, ratings are nearly obsolete. Adgate continued, "I don't think ratings matter as much to Netflix. They probably see the popular shows streamed on their service and believe Handler will be a good fit for them."
The Netflix demographic, much like E!, is of a different audience profile than the broadcast networks. NBC has already tried to change that with the youthful and viral-friendly Fallon; CBS may be doing the same with Stephen Colbert.
Handler, being the only woman in late night already, could change the game again.
"Kind of like [Netflix original] Orange Is The New Black, a female-dominated show," said Adgate, "proving Netflix has something for everyone."
Posted-In: Brad Adgate Chelsea Handler commentsTopics Top Stories Success Stories Tech General Best of Benzinga
View Comments and Join the Discussion!