New Study Finds $47 Billion Worth Of Cell Phones Gathering Dust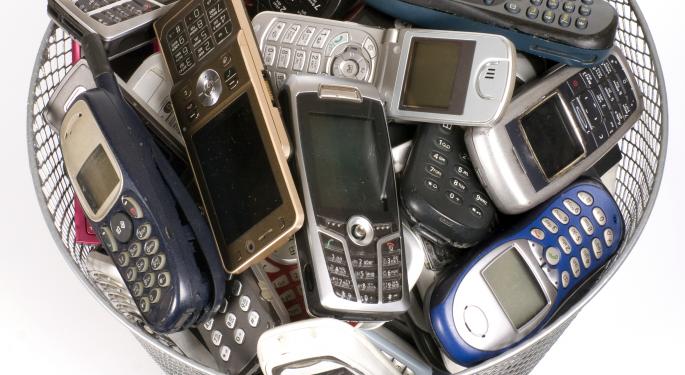 If you've ever wondered why Apple (NASDAQ: AAPL) would waste its time getting into the used cell phone business, a recent survey will answer your question.
According to new data from the annual "Mobile Mountain Study" conducted for mobile resale site SellCell.com, Americans have enough iPhones sitting in drawers to collect a combined total of $47 billion in trade-in value, according to MarketWatch.
Americans are still unaware of the money they can make by trading in their old mobile," says Keir McConomy, founder of SellCell.com, told MarketWatch.
In the most recent quarter, Apple sold a record 51 million iPhones according to its most recent earnings report and although it has managed to convince many consumers to trade in their phones, 50 percent still say that they have an old phone sitting at home gathering dust—down from 55 percent the year prior.
What are people doing with their old phones if they're not trading them in? 20 percent say that they give them to a family member or friend, 12 percent donate the phone to charity, and nine percent say they throw them in the trash.
Related: Talking Apps, Ads And Growth With Facebook COO Sheryl Sandberg
In a world of Target security breaches and NSA spying, security is less of a concern to consumers than in previous years, surprisingly. Only 18 percent of those polled said that security was concerning to them—down from 23 percent one year ago. That could be due to Apple's frequently talked-about security protocols.
Interestingly, when asked why they don't just trade in their old phone, 20 percent said they were "too lazy" while 40 percent say they wanted a spare phone in case something went wrong. Another 36 percent seemed to not know about the trade in programs.
These numbers prove what Apple already knows. While it isn't directly handling all of those iPhone trade-ins that it collects in its stores, it gets a piece of the revenue. With 50 percent of consumers holding on to their old phones and 36 percent seemingly not knowing that they can trade in their phone and receive up to a couple of hundred dollars, Apple stands to make a substantial amount of easy money in a market in its infancy.
Companies like SellCell, Gazelle and NextWorth, along with carriers like AT&T and Verizon are in on the action as well.
Disclosure: At the time of this writing, Tim Parker was long Apple.
Posted-In: Apple Keir McConomy Marketwatch SellCell.comTopics Tech General Best of Benzinga
View Comments and Join the Discussion!