The Road Ahead As Upper Middle Class Delays Retirement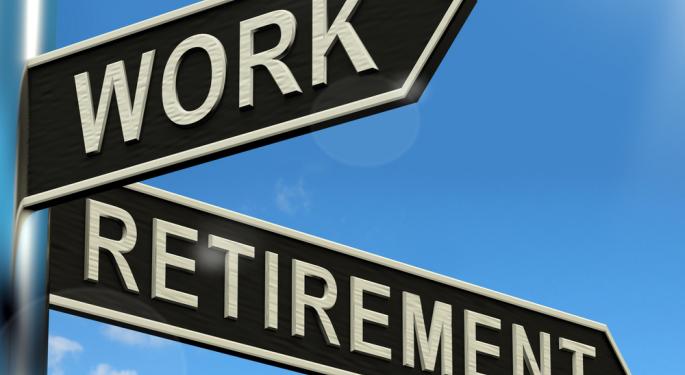 A recent survey conducted by Bank of America's (NYSE: BAC) Merrill Edge revealed surprising results about how members of the upper middle class approach their finances. 
Merrill Edge surveyed 1,001 people who are among the "mass affluent", which the firm defines as households with between $50,000 and $250,000 in total investable assets. 28 million American households fit Merrill Edge's definition of mass affluence. 
The most noteworthy finding is that 56 percent of respondents reported that they plan to retire later than they thought they would one year ago. In a year where the S&P 500 has grown more than 12 percent and the unemployment rate has fallen, why are people growing more pessimistic about their retirements?
Explaining the Caution?
Benzinga spoke with Linda Shelby, a Senior Vice President at Merrill Edge. Shelby held two factors responsible for mass affluent people pushing back their target retirement dates: the rising cost of healthcare and excessively conservative investment choices.
"The number one concern of the mass affluent is rising health care costs. Since that isn't something that they control, that would be one of the things that they're seeing even with the rising stock market.  They're still seeing that health concerns are looming."
Shelby continued, "Even with their savings and even with things being up, a lot of people have invested far more conservatively than they probably should in their retirement accounts. Looking at the mass affluent, 41 percent consider themselves conservative investors. A lot are investing in products that are just not giving them the growth that they need over the long term."
Shell-shocked by the 2008 stock market crash, many investors are more risk-averse than they should be. The prospect of new health care legislation or changes to Medicare  prompt them to feel skittish about the future. With these fears weighing on their minds, investors' emotions can blind them to growth opportunities. A successful retirement strategy requires portfolio growth, which involves a healthy dose of risk.
There is another way for investors to boost confidence in their holdings. Shelby advises emulating investors who glean confidence from feeling in control of their finances. "They are looking and saying 'I feel better about these concerns that have been my major concerns because I have put together my plan. I know how much I need for retirement, I know how much I need to put away to get there.' They're getting more disciplined about budgeting, they're getting more disciplined about their expenses, more disciplined about doing employer-sponsored 401k plans and retirement plans."
Family & Finances
Another important factor contributing to delayed retirement age is the growing cost of college tuition. The survey found that 58 percent of the mass affluent with children fund their education with personal savings. For those whose children take out student loans, 47 percent plan to help repay those debts.
With family issues like healthcare and a child's education weighing so heavily on people's minds, Shelby says that communication between couples is essential. The survey found that 69 percent of all mass-affluent couples discuss finances multiple times every month. Perhaps the most surprising result of all? 24 percent of couples find themselves talking about finances more than they talk about their children.
"In the competing priorities between long and short term, they are spending as much time talking about what they are buying at the grocery store as they are talking about planning for the long term or managing debt," Shelby said.  
"The good news is they're talking about it. The challenging piece is still trying to find that balance of the short term versus the long-term goals."
The Road Ahead
So what are investors to do?
Shelby advised, "Using a retirement calculator is the best thing you can do.You can use it to calculate how much to put away every month to make sure that I can hit that number that I'm striving for. And if I'm not able to put that much money away, then what do I need to do in order to pull back? You may have heard about the latte effect, which is that [if you spend] $5 a day on a latte—taking those funds and placing them into a retirement account saves you $150 a month. While that doesn't sound like a lot, taking those dollars on a tax-deferred, compounded basis can make a difference over time when you are doing it consistently month after month."
Linda Shelby will be discussing these issues in a free webinar co-produced with CNN Money on Thursday December 13, 2012.
View Comments and Join the Discussion!
Posted-In: Bank of America Merrill Lynch mass affluent retirementEntrepreneurship Topics Success Stories General Best of Benzinga