Floyd Mayweather Made Nearly Enough Money Last Year To Give $1 To Every American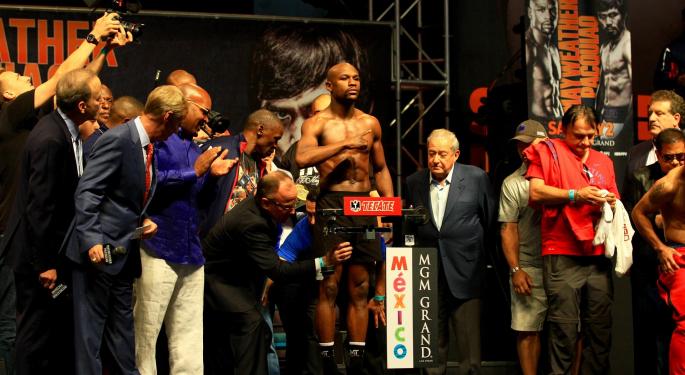 It's no coincidence that boxer Floyd Mayweather's nickname is "Money."
Mayweather tops the Forbes list of 2018's highest-paid athletes, having earned roughly $285 million last year.
The pugilist's income is comprised of roughly $275 million in salary in 2017 and $10 million in endorsements, enough to give all 325 million Americans about 88 cents each. Incredibly, Mayweather, who sports a 50-0 professional boxing record, earned the incredible payday from a single fight: the Aug. 26, 2017 defeat of UFC star Conor McGregor.
The single fight was such a moneymaker that it also catapulted McGregor to the No. 4 spot on this year's list with $99 million in total earnings.
Top Earners
Here's a rundown of the top five athletes on the Forbes list, along with some numbers from the business world to help put their incredible earning potential in perspective.
Other Notes
Tennis great Roger Federer earned $65 million in endorsements alone in 2017, more than any other athlete. Federer earned $77.2 million total, placing him at seventh overall.
LeBron James was the top-earning NBA player and sixth on the Forbes list, pulling down a total of $85.5 million last year.
Not a single female athlete ranked among the top 100 earners in 2017.
NBA star Giannis Antetokounmpo, 23, was the youngest athlete on this year's list. Antetokounmpo earned $35.5 million in 2017, good enough to take the No. 30 spot on the list.
Golfer Phil Mickelson, 47, was the oldest athlete on the list. Mickelson earned $41.3 million last year and took the No. 22 spot on the Forbes list.
Related Links:
From Undefeated UFC Champion To Cannabis Entrepreneur: The Frank Shamrock Story
Will Legal Sports Betting Force The NCAA To Pay Its Athletes?
Posted-In: Floyd Mayweather ForbesSports Media General Best of Benzinga
View Comments and Join the Discussion!