Prince Fielder And 4 Of The Biggest Sports Contracts Cut Short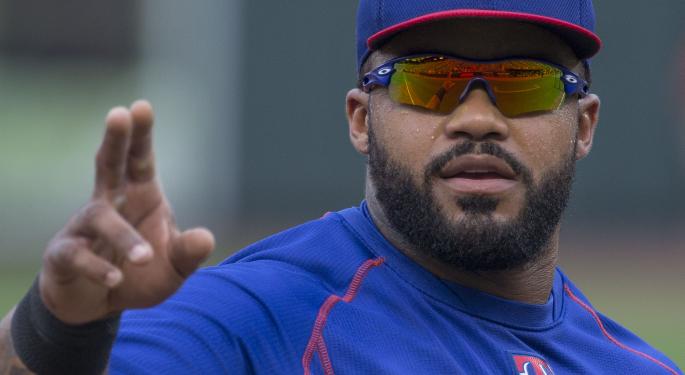 Prince Fielder's career as a professional baseball player appears to be over following his second surgery on two herniated disks in his neck in late July.
The six-time All-Star and three-time Silver Slugger winner played 547 consecutive games before undergoing his first season-ending neck surgery in 2014.
Fielder is on contract with the Texas Rangers and Detroit Tigers, who are on the hook for $96 million through 2020.
While Forbes offered a look as to what will happen with his massive salary, Benzinga took a look at a few of the most notable contracts in sports that weren't fulfilled.
Albert Haynesworth
Haynesworth was a defensive tackle whose stellar play earned him a 7-year, $100 million contract from the Washington Redskins in 2009.
In 2010, he was said to have shown up to training camp out of shape and failed conditioning tests. He was ultimately suspended for the final month of the season. In 2011, he was released by the Patriots after the team traded for him and hasn't played since.
According to Fox Sports, the $100 million contract is "regarded by many as one of the worst in NFL history, and his decline was as rapid as it was stunning."
Related Link: Why The Seahawks Are The Google Of The NFL: 'They Let You Be You'
Nnamdi Asomugha
Asomugha, a three-time Pro Bowler and cornerback with the NFL's Oakland Raiders, signed a five-year contract with the Eagles in 2011 worth $60 million.
Asomugha was the biggest name in the free agency market and his addition to the Eagles created what was supposed to be a "dream team" but he led the team to an 8-8 record and missed the playoffs. After refusing to restructure a contract in March 2013, he was released.
Allan Houston
Houston helped the NBA's New York Knicks reach the 1999 NBA Finals. He was able to leverage his stellar play, including a key buzzer beater to upset the top-ranked Miami Heat to negotiate a six-year, $100 million deal.
Houston's knee injury forced him to sit out the entire 2006 and 2007 season. Even though he didn't play a single game, he was still the second-highest paid player, which prompted the league to make changes to luxury tax, which earned the nickname "The Allan Houston Rule."
Image: Keith Allison, Flickr
Posted-In: Albert Haynesworth Allan Houston Nnamdi Asomugha Prince FielderSports General Best of Benzinga
View Comments and Join the Discussion!