The Next Normal is Here: Wall Street Is Rethinking Critical Assumptions Behind Portfolios Post-COVID-19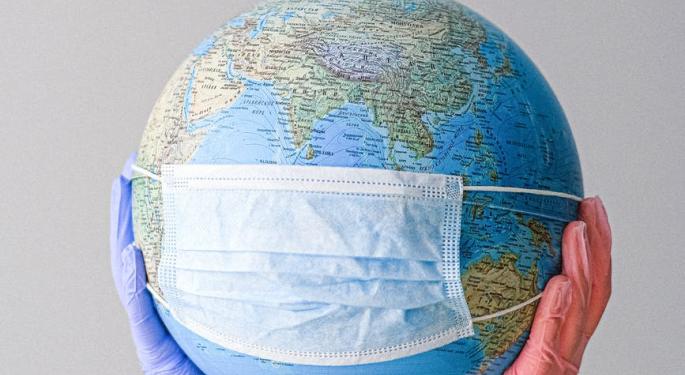 The following is a contributed article from a content partner of Benzinga
The world is gradually starting to come to terms with the realities of the next normal after COVID-19 pressed a kind of reset button on the global economy while triggering a great deal of uncertainty at the micro and macro levels. COVID-19 is turning out to be a huge milestone in history and it would be naive to expect the world to return to its pre-COVID-19 normals.
Social distancing won't stop until a COVID-19 cure or vaccine is mass-produced, governments will start prioritizing the local production of essentials, remote work/WFH is here to stay, and the fault lines in race wars, class wars, and international relations are becoming increasingly visible. Wall Street needs to start rethinking the critical assumptions that determine what stocks to buy, hold, or sell.
To begin with, the stock market is becoming increasingly volatile as seen in the chart below. The level of volatility in U.S. stocks has jumped more than 127% since the WHO declared COVID-19 a global pandemic on January 20. Now, gold has once again retained its safe-haven status, the tech-heavy NASDAQ is up, and many cryptocurrencies continue to experience dramatic price swings with Bitcoin currently weathering the year better than the S&P 500.
One of the features of the next normal that might influence how Wall Street traders and investors manage their portfolios is an undeniable change in consumer behavior. The full and partial lockdown over the last three months coupled with the need for social distancing in a bid to flatten the curve has triggered a massive shift in consumer behavior towards a contact-free economy.
As seen in the chart below, the stocks of Teladoc Health, Inc. (NYSE: TDOC), Amazon.com, Inc. (NASDAQ: AMZN), and Grubhub Inc. (NYSE: GRUB) have gained 84%, 43%, and 23% respectively since the WHO declared COVID-19 as a pandemic on January 30. They all provide solutions that allow people to stay in their houses while accessing essential goods and services.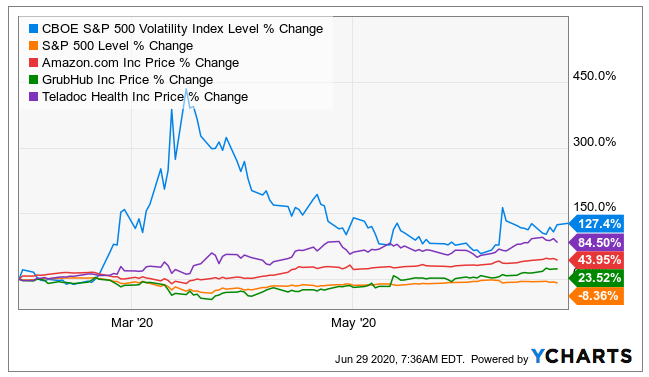 For the most part, the stocks of businesses delivering contact-free goods or services have fared well during the lockdown whereas the volatility of U.S. stocks has jumped 127% and the S&P 500 index has declined more than 8% in the same period.
According to a report on the European economy, analyst firm McKinsey predicts the contact-free economy likely is the next normal. In Europe, 13% of consumers started thinking about patronizing online retailers for the first time in April. Also, in Italy, e-commerce transactions rose 81% in March.
Consumer behavior has shifted towards increased dependence on e-commerce and stay-at-home solutions, and this will probably set a new baseline in how consumers choose to interact with businesses and each other in the short to medium terms.
Secondly, the shift in consumer behaviors towards an increasingly contact-free economy will cause investors, hedge funds, and portfolio managers to start rethinking their critical assumptions about sector attractiveness as the world settles into the next normal.
As mentioned earlier, e-commerce will continue to be an attractive sector in a contact-free economy. However, beyond e-commerce, digital communications, and cybersecurity to protect digital interactions will become increasingly important.
Digital communications play a crucial role in a contact-free economy. Business, education, healthcare, and events among others are resuming through digital communication platforms such as Zoom. In fact, the rapid growth of Zoom Video Communications Inc. (NASDAQ: ZM) in the last few months suggests that Remote Work/WFH might become a valid market sector in the foreseeable future. Zoom grew from having 10 million users in December 2019 to having more than 200 million users all within a span of three months and its stock is up more than 270% in the year-to-date period.
Also, cybersecurity will grow to become an important market segment as the shift to a contact-free economy encourages more digital interactions. The risks associated with an increasingly digital world are not new but they became more obvious with the rise in the spate of unauthorized individuals invading live sessions, in a phenomenon known as "Zoombombing." The areas of digital privacy, security, and identities will become more attractive sectors going forward.
Lastly, Wall Street can expect to see increased government intervention in ensuring that businesses/sectors/industries survive these unprecedented times. Governments have already started applying different kinds of monetary stimulus plans such as reducing interest rates, pumping trillions of dollars into their economies, and other forms of stimulus checks.
Going forward, governments may start to nationalize some critical services currently offered by the private sector, they may offer loans to others, buy up equity stakes in some, or yet regulate others. However, different governments will intervene in different industries differently since they'll most likely be making up their playbooks as the situation demands.
The increase in government intervention is a two-edged sword that could on the one hand potentially protect businesses and their shareholder interests while on the other hand making it somewhat difficult to know how the underlying business is actually faring. Also, who pays the piper dictates the tunes and you can expect an attendant increase in government scrutiny.
In summary, the volatility on Wall Street is likely to continue increasing as the world settles into the next normal and many traders and investors might find themselves scratching their heads trying to figure out exactly what is happening in the market.
Before COVID-19, traders on Wall Street could rely on technical analysis to find patterns that can be leveraged for trading profit. In the next normal, there'll be an increasingly important need to pay more attention to fundamental analysis.
View Comments and Join the Discussion!
Posted-In: marketacrossPsychology General Best of Benzinga