2 Out Of 3 Households Are Home To A 'Gamer,' But It May Not Be The Family Member You Expect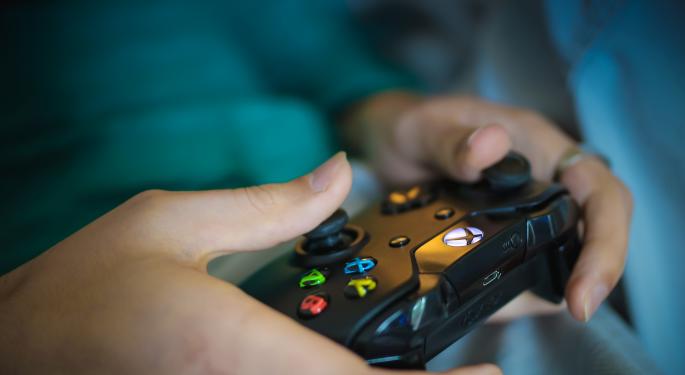 Kathy Wood popped into her fellow math teacher's room and was greeted by a not-so-unusual question: "Hey, Mrs. Wood, is it true that you play 'Call of Duty?'"
Until age 58, when her son and motivation-to-play departed for college, her answer was a casual "yes."
Wood joined the gaming scene around age 46, when she bought Andrew a Nintendo Co., Ltd (ADR) (OTC: NTDOY) console so he could relate to his kindergarten classmates.
She took a tentative step into the $30.4 billion market, first enticed by the mathematical elements of "Dr. Mario," and then leapt.
Over the years, she and Andrew took on the Wii and its sports portfolio before eventually migrating to Sony Corp (ADR) (NYSE: SNE)'s PlayStation and Microsoft Corporation (NASDAQ: MSFT)'s Xbox. "As he got toward middle school, of course it's harder to bond with a son, being a female parent, so we started playing 'Halo' and 'Call of Duty,'" she said.
A Common Demographic
Wood is by no means a rarity. She represents the 67 percent of American households equipped with gaming devices; the 26 percent of players older than 50; and 42 percent of gamers who identify as female.
According to reports by the Entertainment Software Association, the average female player is 37 against the male average of 33, and women older than 18 outnumber male gamers under 18.
Wood also well represents the female gaming preference, which moderately differs from that of males.
"I was good at the Wii and the Mario Party and things like that, but when it got to the hardcore violent games and the shooting games, I was decent, but my son was really the person who excelled," she said. "Dr. Mario" was her go-to.
Her motivation to play was also fairly standard. About 67 percent of parents game with their children at least once a week, and 45 percent report that video games foster family time, according to the ESA.
Like many in the surveyed cohort, Wood joined the hype of preordering games and waiting for releases at GameStop Corp. (NYSE: GME) merely to bond with her son. The two shared a gamer tag and affiliated statistics, and the experience was "just something to get excited about together."
Now that Andrew is finishing law school and has largely abandoned the gaming life, Wood doesn't play anymore. "Once he graduated and went off to college, there was no reason for me to sit around and play video games by myself," she said.
But her dormant gamer tag and enduring kill rates preserve the legend of her play ━ and bygone time with family.
Related Links:
Even Among Gamers, 70% Don't Have The Nintendo Switch On Their Radar
Rewriting The Script: Simulation Games Take Inspiration From Art, Social Issues
View Comments and Join the Discussion!
Posted-In: BZTV Call of DutyPsychology Exclusives Tech Media Interview General Best of Benzinga