How Nintendo's Last 4 Gaming Consoles Performed In Their First Year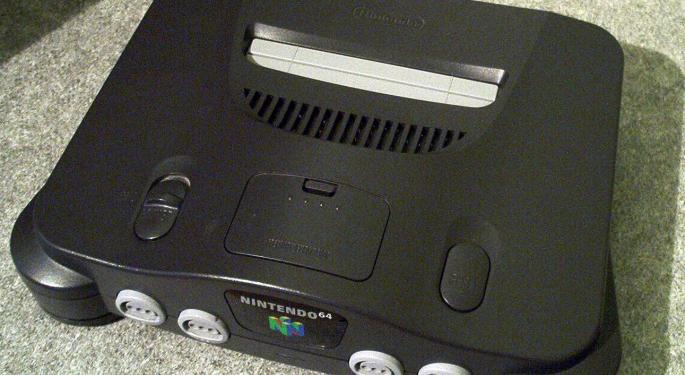 Japanese video game console maker Nintendo Co., Ltd (ADR) (OTC: NTDOY) has just announced more details of its newest console on the block, the Nintendo Switch. Switch will go on sale March 2017.
As the company, analysts and avid Nintendo fans keep their fingers crossed over, looking forward to the possible reception of Switch, Benzinga looked back at how the company's previous console launches fared in their first year.
N64's Strong Start
The Nintendo 64 — launched in Japan in June 1996, in North America in September 1996 and in Australia and Europe in March 1997 — generated unit sales of 5.8 million in 1997. Unit shipments rose about 62 percent to 9.42 million in 1998, with sales decelerating subsequently.
GameCube's Modest Showing
Nintendo's next console, the GameCube, was released in Japan on September 14, 2001, and in North America on November 18, 2001. GameCube's reception wasn't as great as the N64, as it sold 3.8 million units in 2002. With roughly 51 percent growth, shipments grew to 5.76 million in 2003 only to decelerate to 5.02 million in 2004, 3.92 million in 2005 and 2.35 million in 2006.
Financial/Stock Performance
In the fiscal year ended March 2003, Nintendo reported a 9.1 percent revenue decline to 504.14 billion yen and a 36.8 percent drop in net income to 68.27 billion yen.
Reflecting the lack of enthusiasm among traders, the ADR fell 44 percent in 2002.
Wii: The Smash Hit
The smash hit among Nintendo's gaming consoles has been the Wii, which launched in November 2006. However, the console had a modest start, selling 5.84 million units in 2007. Shipment growth catapulted over three times in 2008 to 18.61 million units. After peaking at 25.95 million units in 2009, unit shipments dropped to 20.53 million in 2010, 15.08 million in 2011 and 9.84 million units in 2012.
Financial/Stock Performance
Nintendo's revenues for the fiscal year ended March 2008 climbed 73 percent to 1.67 trillion yen from 966.53 billion yen in the previous year. Net income was up about 48 percent to 257.34 billion yen.
Wii's success catapulted the stock by about 128 percent in 2007.
Wii U's Unflattering Statistics
The Wii U, launched in late 2012, was a slow starter and remained slow throughout. After selling 3.45 million units in 2013, in fact less than the 3.98 million units of Wii sold in the same year, Wii U's shipments fell to 2.72 million units in 2014. Thus, it earned the dubious distinction of the only console of Nintendo which saw sales decelerate in the second year itself. Wii U sold 3.38 million units in 2015 and 3.26 million units in 2016.
Financial/Stock Performance
The company experienced a 10 percent decline in sales to 571.7 billion yen in the fiscal year ended March 2014 and raked in a loss of 46.43 billion yen.
Notwithstanding the lackluster showing by Wii U, Nintendo stock rose 25 percent in 2013.
Thus, it is clearly evident that the success of the console is a leading indicator of the company's fundamental performance and the stock's showing. Can Switch help the company switch to a trajectory of accelerating sales and profits? The coming days will have answers.
Image Credit: N64, Public Domain, via Wikimedia Commons
View Comments and Join the Discussion!
Posted-In: GameCube N64News Events Tech Media Trading Ideas General Best of Benzinga