'90s Nostalgia: 7 Shows We Want Back On TV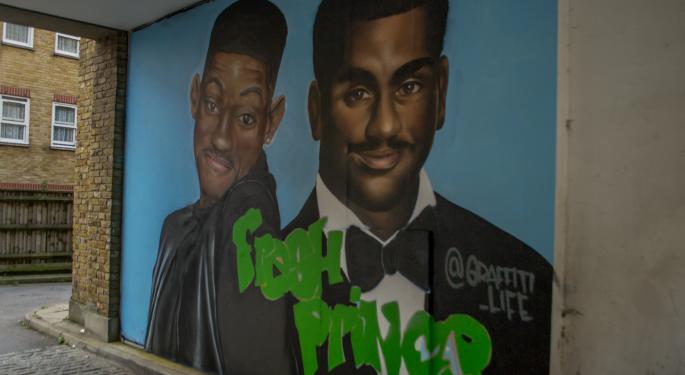 Walt Disney Co (NYSE: DIS) is riding the wave of pop culture nostalgia by bringing back a pair of hit TV shows: "Roseanne" and "American Idol." "American Idol" was a ratings juggernaut for Twenty-First Century Fox Inc (NASDAQ: FOXA) for 16 season starting in 2002. "Roseanne" ran for nine seasons on ABC from 1988 to 1997. Both shows will reportedly be returning to ABC within the next year.
Related Link: ABC Capitalizes On Retro Trend, Brings Back 'Roseanne,' 'American Idol'
Since Netflix, Inc. (NASDAQ: NFLX), Disney and other TV content providers clearly see value in reviving old TV shows, here's a look at seven more '90s TV shows Benzinga thinks should be brought back from the dead.
'90s Nostalgia: Benzinga's 7
1. "The Fresh Prince of Bel-Air"
The show that catapulted Will Smith to main stream popularity and Hollywood film success would certainly generate plenty of nostalgic interest from fans. Surely Smith would be open to one more go-around as the smooth-talking West Philadelphia-born Bel-Air transplant.
2. "Seinfeld"
"Seinfeld" has been off the air since 1998, but its syndicated reruns are as relevant and funny as ever. The "Seinfeld" cast did an unconventional reunion on HBO's "Curb Your Enthusiasm," but another full season of "Seinfeld" would draw massive ratings.
3. "Family Matters"
Star Jaleel White, who played the iconic Steve Urkel character, hasn't exactly seen his career take off after "Family Matters" stopped airing back in 1998. America would likely love to check in on Urkel and the Winslow family after all these years.
4. "Buffy the Vampire Slayer"
We're going to go out on a limb and speculate that Sarah Michelle Gellar has enough time in her schedule for a "Buffy" reboot. Vampire fans of the 1990s would love to show younger "Twilight" fans how much better cheesy vampire stories were back in the day.
5. "Frasier"
Thirteen years after "Frasier" went off the air, the world is still as pretentious as ever. America would love to spend another season rolling its eyes at Frasier and Niles Crane's never-ending efforts to convince the world how sophisticated they are.
6. "Friends"
Several members of the "Friends" cast went on to mixed success in movies and other TV series. "Friends" fans would enjoy update on what the New York 20-somethings are up to now that they are 40-somethings.
7. "Saved by the Bell"
The cast of "Saved by the Bell" reunited for a hilarious spoof of the '90s high school sitcom on the "Tonight Show" back in 2015. However, true fans want to see the Bayside crew together for at least another full season of episodes.
_______
Image Credit: By MsSaraKelly - Fresh Prince by Graffiti Life, CC BY 2.0, via Wikimedia Commons
Posted-In: 90s ABCPsychology Opinion Tech Media Trading Ideas General Best of Benzinga
View Comments and Join the Discussion!