Private Label VR Enters The Wild West Of Virtual Reality Gaming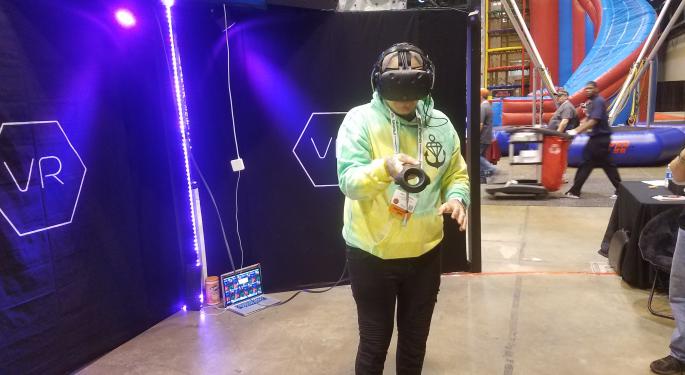 Advancements in technology are turbocharging development in the virtual reality space — and one young company is taking advantage of a market that didn't previously exist.
Salem, Utah-based Private Label VR, which started business in January, offers software that allows the operators of VR gaming arcades to track play for the purposes of payment, statistics and player rewards.
VR processing speed, graphics and software technology reached a critical mass point last year, said Terry Bean, one of four partners in Private Label VR and the company's director of business development.
"It was the convergence of those three things that made 2016 year one of VR, even though it's been around 40-odd years," Bean told Benzinga.
Walk The Plank
VR technology has reached a point where the human brain cannot distinguish the experience with a headset from r,NVDAeality, Bean said, giving the example of a demonstration called "Richie's Plank."
The experience, released last year by the developer Toast, allows users to take an elevator to the 80th floor of a skyscraper, get off and walk a plank over the abyss below.
"I have watched grown men sweat and scream that they can't walk out on the plank," Bean said.
The 46-year-old, who lives in White Lake, Michigan, is a former technology salesman and recruiter, business coach, community organizer and author.
His involvement with VR began with a high school friend, Rich Twistol, who wandered into a VR arcade at a Minnesota mall last October.
Twistol, who's now Private Label VR's vice president of sales, connected with the other two partners in the company, Josh Hintze and McKay Christensen.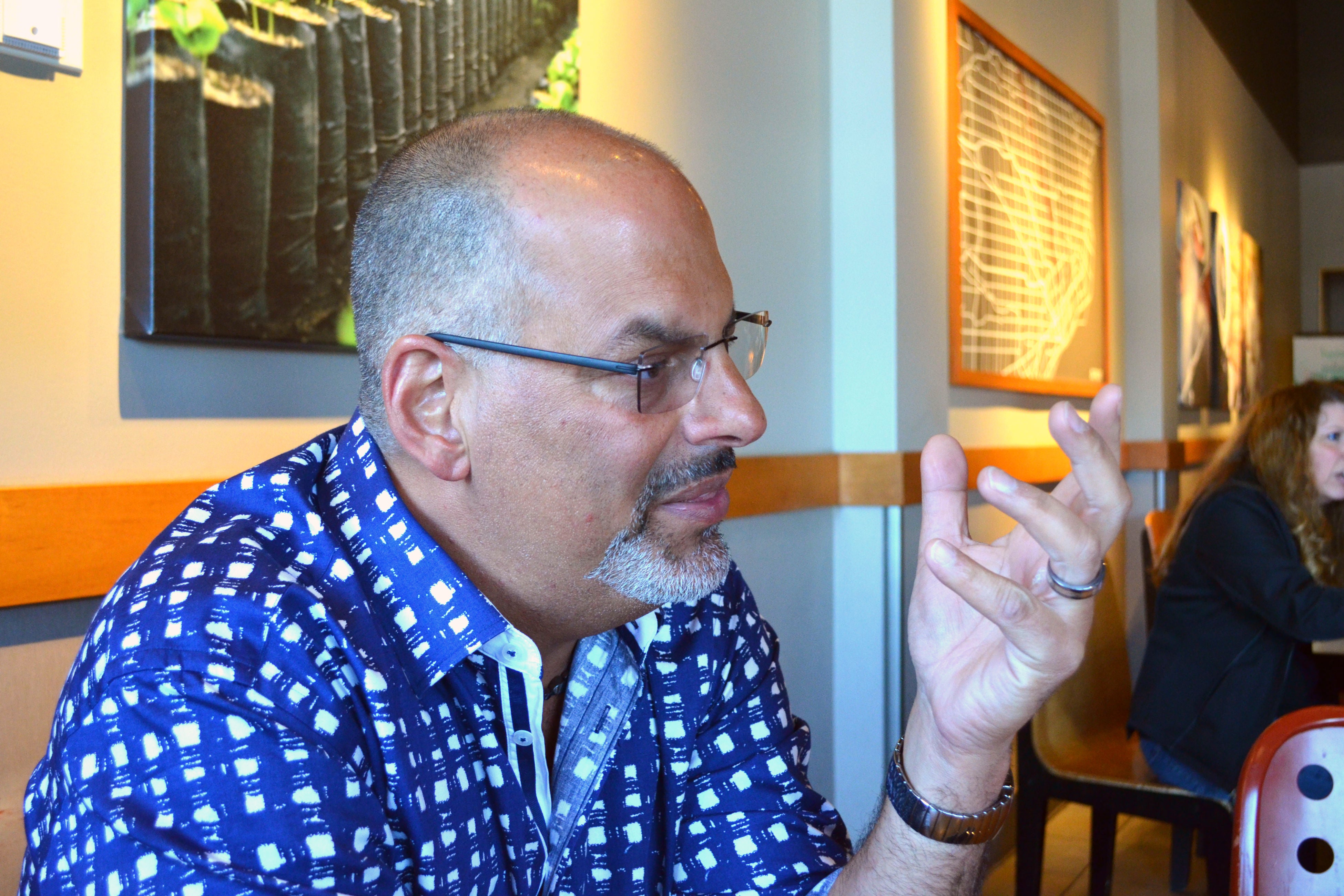 A convergence of technological advancements made 2016 "year one of VR, even though it's been around 40-odd years," says Terry Bean, director of business development at Private Label VR. Photo by Dustin Blitchok.
The Gateway Drug
VR Junkies, a sister company to Private Label VR, directly operates VR arcades. The company's first arcade opened last June, and six are now fully operational, Bean said.
He describes gaming as VR's "gateway drug."
At VR Junkies arcades, players are charged $1 per minute. The nature of the technology, including its upfront cost, means that brick-and-mortar arcades make sense — and are creating a destination at shopping malls that are otherwise coping with a soft retail business, Bean said.
HTC Vive headsets retail at $799, while the cost of the gaming computers they're linked to runs into the thousands.
VR players hold controllers that, depending on the game, can simulate any number of objects or tools used in gameplay.
"In some games, it's a machete. In other games, it's a gun. In one game, it's a firehose. In another, it's a jetpack," Bean said.
The setup cost for a VR Junkies arcade is about $60,000, Bean said.
Demographic studies show that VR arcade visitors are typically males between 18 and 35. A recent UCLA study showed that 60 percent of arcade visitors intend to return within 30 days, Bean said — and plan to bring a friend with them.
Using the software offered by Private Label VR makes arcades attractive to game developers, Bean said, because of the problem of arcades that operate illegally.
"It's what keeps arcades complaint, so game developers want to be there."
Arcades that aren't paying proper licensing fees will typically download VR games from stores such as Steam and disconnect from the service so that the abuse of single-use licenses on multiple computers can't be tracked, Bean said.
John Coleman, the director of business development at Vertigo Games, told Benzinga the company's relationship with Private Label VR has streamlined the arcade side of its business.
"As a publisher working with Private Label VR, it is easier to manage licensing to multiple locations and speeds up the process of onboarding new arcades into our game, 'Arizona Sunshine,'" Coleman said in an email.
"It also provides Vertigo Games with tools we can use to analyze performance of the game and to shape in-arcade promotions to drive traffic."
From Real Estate To Porn, Opportunity Abounds
The potential applications for VR are limited only by the imagination, Bean said.
They include medical training, corporate meetings, virtual real estate tours and tourism. Private Label VR is working with a major cruise line that Bean declined to name on an initiative to promote cruises using VR, he said.
Social apps already exist where users can go to an open environment in VR and have voice-to-voice conversations with other people represented by avatars, he said.
When asked what concerns exist about VR and its cultural impact, Bean held up his smartphone as he responded.
"We're more connected and simultaneously more disconnected than we've ever been."
The in-goggle advertising opportunities with VR are vast, Bean said, giving the example of food and drink coupons advertised to movie theater audiences who are wearing VR headsets.
Another leading area of development in the VR world? Porn.
"I wouldn't want to be a hooker five years from now, because they're going out of business," Bean said.
Related links:
Interested In Investing In Virtual Reality? Here Are The Purest Plays
Facebook Has A New Virtual Reality Chief
Story image: A virtual reality gameplayer uses an HTC Vive headset. Photo courtesy of Terry Bean.
View Comments and Join the Discussion!
Posted-In: HTC VivePsychology Top Stories Startups Exclusives Tech Interview General Best of Benzinga