Kids Need Credit Cards Like They Need Cigarettes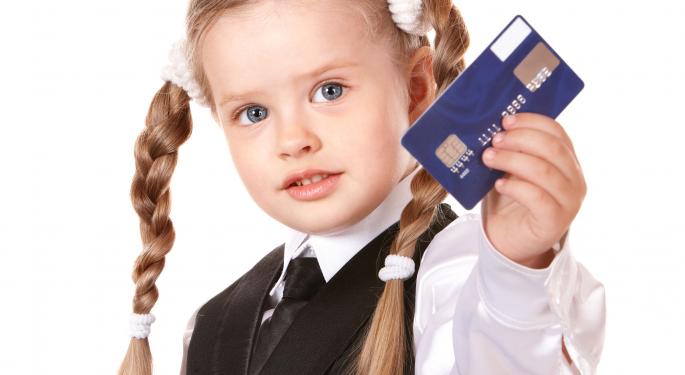 While Benzinga mostly covers actionable trading ideas and news stories, we've decided to delve a bit deeper into personal finance.
The team at Benzinga would like to assist readers with not just their investing endeavors, but their financial lives as a whole. And today, we continue this effort with information on credit cards for kids – and why that is generally an awful idea.
The Reason Credit Card Companies Target Kids
Most people have heard the stories of college kids signing up for a future mountain of debt to get a "free" hat. The CARD Act has curtailed such marketing gimmicks, but not eliminated them. According to the Wall Street Journal, companies now set up shop just off campus and offer intangible gifts such as online coupons or statement credits to circumvent the law.
The motivation can be likened to that of big tobacco which, despite industry claims, obviously still targets young Americans. Of course it does as, according to the CDC, 88 percent of smokers start before age 18 – when many have little concern about their future health. Similarly, the average credit card holder owns her first card at about age 21, while typically in a financially irresponsible state of mind, and credit card companies are eager to have their logo on that first card.
Most Kids are Not Financially Responsible
A 2009 study by Sallie Mae (NASDAQ: SLM) revealed that 84 percent of undergrads had at least one credit card, with the average student having 4.6 cards. Unfortunately, numerous statistics in the study demonstrated their abysmal financial responsibility, including:
An average balance of nearly $3,200 – a considerable amount for someone working part-time or not at all
Sixty percent were surprised at how high their balance was
Forty percent incurred charges while knowing they didn't have enough to pay them off
Eighty two percent carried a monthly balance, thereby incurring interest expenses
Credit Card Users Spend More
An ironic argument in favor of giving kids credit cards is that it teaches them financial responsibility. However, even when considering adults, the average credit card user spends 12-18 percent more when paying with plastic. Add the carefree attitude many kids have and there's a recipe for a financial disaster.
But How Will They Build Credit?
Conventional wisdom suggests kids will eventually need a credit card to build credit. That may be industry propaganda or just a widespread myth, but it is simply not true.
First, consider that a majority of college students take on student loans. Thus, they can establish good credit by simply paying their student loans back as scheduled.
Second, credit unions are always an option for building credit. They're more likely to take on borrowers with no credit than banks and, once that occurs, the young borrower can establish good credit by paying the loan back on time. In other words, a student can wait until she actually needs to borrow money to build credit versus taking on the risks of using a credit card.
Posted-In: Psychology Topics Economics Personal Finance General Best of Benzinga
View Comments and Join the Discussion!