What The New GOP Tax Plan Could Mean For Fannie Mae, Freddie Mac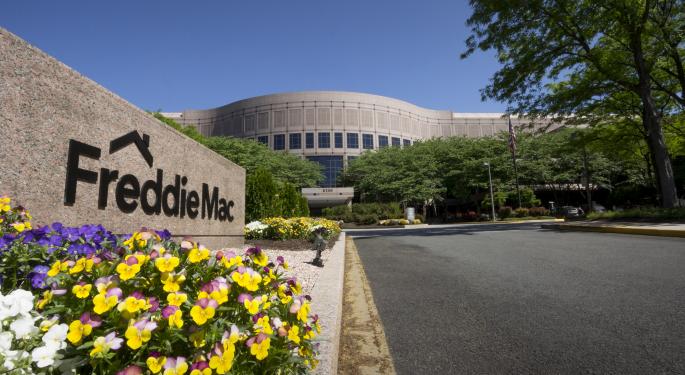 The last time Federal National Mortgage Association (OTC: FNMA) and Federal Home Loan Mortgage Corp (OTC: FMCC) received a bailout, the U.S. economy was in an entirely different place. But with unemployment at a 16-year low and the economy seemingly firing on all cylinders, Fannie Mae and Freddie Mac may once again need to dip into the Treasury's pockets.
This time, the bailout wouldn't be tied to a bursting housing bubble. Instead, it would be tied to corporate tax cuts.
In Fannie Mae's recent 10-Q filing, the company addressed the negative impact that corporate tax cuts could have on its bottom line.
"Under applicable accounting standards, a significant reduction in the U.S. corporate income tax rate would require that we record a substantial reduction in the value of our deferred tax assets in the quarter in which the legislation is enacted. If legislation significantly lowering the U.S. corporate income tax rate is enacted, we expect to incur a significant net loss and net worth deficit for the quarter in which the legislation is enacted and we could potentially incur a net loss for that year."
As part of the terms of their government conservatorship, Fannie and Freddie essentially have zero capital on their balance sheets to cover any losses, even for a quarter, and may need to temporarily rely on Treasury funds in the wake of a corporate tax cut.
But before American taxpayers get too upset about Fannie and Freddie getting even more government bailouts after they received $187 billion during the financial crisis, it's important to understand how massively profitable the original bailouts have been for the American public overall. Since 2012, Fannie and Freddie have been turning over all their profits to the Treasury, resulting in more than $84 billion for taxpayers.
Related Links:
Everything You Need To Know About Jerome Powell, Trump's Pick For Federal Reserve Chairman
Quicken Loans Teams With Fannie Mae To Simplify The Mortgage Process
Photo courtesy of Freddie Mac.
View Comments and Join the Discussion!
Posted-In: fannie mae freddie mac Tax ReformPolitics General Best of Benzinga