Everything You Need To Know About Jerome Powell, Trump's Pick For Federal Reserve Chairman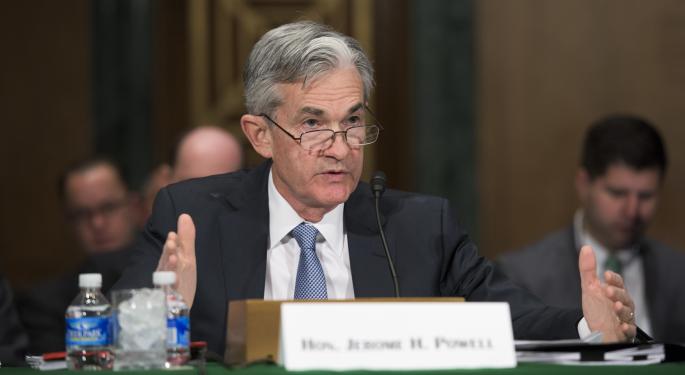 President Donald Trump has made up his mind that the next chair of the Federal Reserve will be former investment banker Jerome "Jay" Powell. He will succeed current Fed Chair Janet Yellen early next year.
Here's everything you need to know.
Track Record
Powell has been a member of the Fed Board of Governors since 2012. Prior to joining the Fed, he was a visiting scholar at the Bipartisan Policy Center in Washington and had served as a partner at The Carlyle Group for seven years. Powell also served as Under Secretary of the Treasury under President George H.W. Bush and has worked as both a lawyer and investment banker.
Related Link: What Donald Trump's Shortlist For The Fed Chair Might Mean For Rates
In His Own Words
For investors, Powell's history of urging a cautious and methodical approach to changes in monetary policy.
"Markets should take a Powell announcement largely in stride, keeping financial conditions easy and providing little disruption to an economy that is experiencing solid growth," Deutsche Bank wrote last week.
Powell has a five-year track record as a Federal Reserve governor for investors to scrutinize in anticipation of his appointment. Powell has mostly been in-line with Yellen when it comes to interest rate policy.
"I would view it as appropriate to continue to gradually raise rates," he said in June.
When it comes to dialing back the Fed's balance sheet, Powell also has echoed Yellen's opinion that it's an appropriate time to start selling assets. Back in February, he said more asset purchases should happen "only in extraordinary circumstances."
Powell has expressed his concerns with relying too heavily on rigid economic and mathematical formulas in determining monetary policy. "I am unable to think of any critical, complex human activity that could be safely reduced to a simple summary equation," Powell said in February.
Even Federal National Mortgage Association (OTC: FNMA) and Federal Home Loan Mortgage Corp (OTC: FMCC) investors have some specific commentary to go by when it comes to housing finance reform. Powell has said he supports getting Fannie Mae and Freddie Mac out from under government control, but has also said "no single housing finance institution should be too big to fail."
More Of The Same?
While some experts have praised Trump for his decision to choose Powell over a potentially more hawkish John Taylor, the other top front-runner for the position, economist Hunter Lewis says choosing Powell as Fed Chair is a far cry from "draining the swamp" in Washington.
"President Trump is elevating an Obama administration appointee to the chairmanship, which is really the second most powerful position in the US government," Lewis says. "If Powell rather than Taylor is appointed Fed chairman, the weight of the evidence will be that Trump has no interest at all in swamp drainage."
View Comments and Join the Discussion!
Posted-In: Donald Trump Jay Powell Jerome PowellPolitics Top Stories Federal Reserve General Best of Benzinga