Roads, Water The Most Underfunded Aspects Of America's 'Abysmal' Infrastructure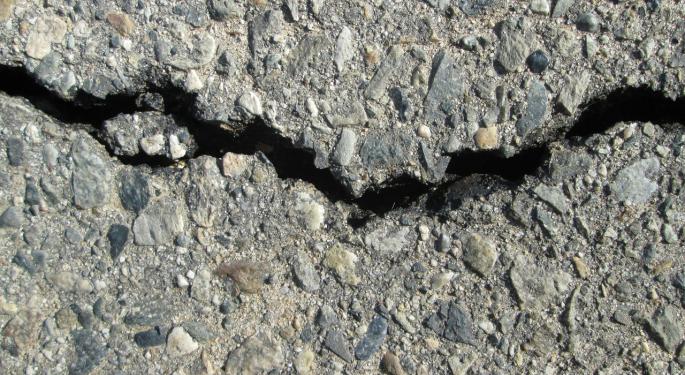 President Trump's call for a $1 trillion infrastructure spending project may have stalled given the ongoing political turmoil in Washington. Nevertheless, the spending plan remains "music in the ears" of the American Society of Civil Engineers, Statista noted.
The civil engineer organization slapped the overall state of infrastructure in the U.S. with a failing grade of "D" in its most recent "Report Card for America's Infrastructure." In fact, a "D" rating has been the average mark dating back all the way to 1998.
Perhaps most concerning, a grade of "D+" indicates the infrastructure is "poor" and "at risk."
Of particular note, the iShares S&P Global Infrastructure Index (NASDAQ: IGF) has already gained more than 15 percent since the start of the year, likely on continued optimism that it's a matter of when, not if, the White House will green light its infrastructure project.
Is $1 Trillion Enough?
Statista's research found the following funding needs of major infrastructure sectors in the U.S. through 2025.
Surface transportation including roads and railways requires $2.042 trillion in funding through 2025. However, only 46 percent of the expected funding has already been committed.
Replacements, improvements, upgrades and other work for the electrical grid will require $934 billion in financing through 2025. A more encouraging 81 percent of the necessary funding has already been secured.
Airports require $157 billion in financing through 2025 of which 73 percent has been committed.
Finally, ports and waterways require $37 billion in financing through 2025 of which 59 percent has been committed.
You will find more statistics at Statista
Related Link:
Comey Demolishes Infrastructure Week, Calls Trump A Liar
Mario Gabelli's Game Plan To Profit From An Infrastructure Bill
Posted-In: Donald Trump infrastructure Infrastructure Spending StatistaPolitics Topics Media General Best of Benzinga
View Comments and Join the Discussion!