Column: Why Donald Trump Will Never Be President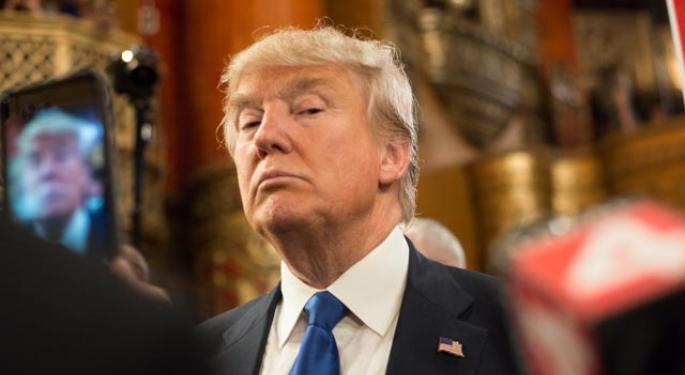 This column does not reflect the views of Benzinga.
Donald Trump, currently steering the Republican Party into an iceberg, will never be president. That's a very good thing for Americans who value the Constitution and a very bad thing for bigots, chauvinists and the ne'er-do-wells who orbit Trump Tower.
For more than a year, Trump has offended and insulted his way into the hearts of millions of deplorable buffoons, forgetting along the way that the people he's insulted are also voters — and those voters have wide circles of friends, family and allies who aren't going to stand for Trump's dehumanizing language and bigoted policy propositions.
Now, as the general election draws near, Trump and the Republicans want a do-over. They want to pretend that the last year didn't happen, that Trump's words — captured on tape — are not indicative of how he really thinks. They want us to pretend that Hillary Clinton's sins are as bad, or worse, than Trump's. So, let's look at the record.
Related Link: Trump: 'The Shackles Are Off'
The Record
Donald Trump is a tax cheat, a con man who openly trades in bigotry.
Hillary Clinton used email at work, stayed married to her straying husband and didn't invent time-travel quickly enough to save people in Benghazi.
Donald Trump has lived a life filled with sexual harassment and has been publicly accused of rape on multiple occasions.
Hillary Clinton has lived her life working for women's rights across the globe and at home.
Donald Trump has called Mexicans "rapists" and insulted Latinos, Muslims, Women, Gays, the Disabled, POWs, a Gold Star family, war heroes, Democrats and Republicans, among others.
Hillary Clinton said bigots like Trump are deplorable.
The Debate
All of these Trump scandals make his strategy for the second debate odd. Prepare for the debate, apologize sincerely and immediately, move past it and then focus on issues.
Instead of that reasonable path, Donald Trump decided to ignore almost every issue and focus the debate on scandals mere days after tapes came out where Trump admitted he sexually assaults women because he is famous and can get away with it.
To say the least, it's odd for Trump to focus on personal matters.
Avoiding these colossal mistakes is why serious adults hire professionals, not provocateurs, to run campaigns. Trump chose the latter route, and the debate was proof of it. He chose morons, and they gave him moronic advice.
Whoever told Trump it was a good idea to bring up sex scandals just eliminated Trump's last path to victory. It's over. Trump has turned off the voters he needed to win. He cannot and will not receive enough votes to be president. You may as well get used to saying "President Clinton" again.
Trump Lost Female Voters
Trump entered the debate season behind in the polls but within striking distance. He had four big controlled events left: three presidential debates and one vice presidential debate. To win, he had to use those debates to appeal to new voters in some combination of swing states that would add up to 270 electoral votes. That means appealing to people who are not already voting for Trump.
Having already ruined any shot at redemption with Latino and Black voters, Trump should have made a play for college-educated, white, female voters. After all, white college-educated voters have formed the base of the Republican Party since the 1950s. They've always voted Republican.
Something about 2016 is different though. Republicans aren't getting what they need from educated white voters. College-educated white men still favor Trump by 10 points, so he's in reasonable shape there. But that margin is completely eclipsed by the 30+ point spread educated white women give Clinton. This is a strong sign that 2016 is a realigning election, and the early indicators point to a death spiral for the current Republican Party.
Sticking to this election, white educated women are the only pool of voters that is both (a) open to changing their minds back to the GOP this late in the election and (b) large enough to actually impact the election. In other words, Trump had a chance to prevent the realignment by bringing college-educated women back into the Republican tent, and these women are likely his last, best chance to put together a winning coalition.
Then the Trump Tape comes out, and we learn that Donald Trump admits he:
Commits sexual assault on a regular basis.
Feels entitled to grab and kiss unwilling women because he can get away with it.
Cheats on his wife.
Thinks all of this is perfectly normal and not sexual assault.
Trump could have survived that tape. He could have said something like, "Those words were offensive and I can't agree with them. I was a different person and I don't believe those things for one bit. I have no defense. I can only promise that I will work harder to be better role model for all our children."
It would have been a total lie, because Trump doesn't think there's anything wrong with what he said. But it would have let Trump appear human for two minutes and given him a hook for undecided voters and a path to go after educated white women. (Who doesn't love a good redemption story?)
Instead of using this horrible moment to apologize, reset the narrative and pursue the voters he needs to win, here's what Trump did.
Said the sexual assaults he described were "just words" and offered a lame non-apology.
Blamed his scandal on Clinton.
Admitted he sexually assaults women, then said Bill Clinton was also guilty.
Lied about Hillary Clinton's record as an attorney.
Held a press conference with alleged Bill Clinton victims.
Claimed that all men are as disgusting as Trump is.
Started wildly attacking Paul Ryan and other Republicans who dumped him over the tape.
There aren't a ton of issues that unite all women, but many women have been a victim of sexual violence at some point in their lives. What Trump did during the debate was remind every single woman of every single man who ever assaulted her, harassed her or grabbed her body without permission.
And thus ended Trump's chances to convince otherwise moderate Republican women to come back to the Republicans, killing his election chances.
Then Donald Trump went on national television and told all of us that what is legally defined as "sexual assault," Trump considers "locker room banter." His campaign says that's how all men talk.
Look. If you can't tell the difference between locker room banter and sexual assault, it's likely you've committed sexual assault against someone in your lifetime. If you don't understand consent, what are the odds you've always obtained consent before sex?
Given that Trump has admitted on tape he doesn't understand what consent is and given Trump's inability to see women as people, not objects, a logical conclusion anyone can draw is that Donald Trump has sexually assaulted at least one person in his lifetime. That's the dealbreaker for the undecided voters. Americans can forgive a lot, but we're generally not cool with scumbags who brag about assaulting women because they can.
Where Is The Race Now?
To put the race in context, imagine a football game where election day is the end of the fourth quarter. Here's where we stand.
Hillary Clinton is a playoff team with a two-score lead and the ball. Six minutes remain in the game. The debate is the two-minute warning.
Donald Trump is Rutgers, he's on his third QB of the game, and he's shown no ability to create anything.
To win, Hillary needs to avoid a pick-6 in the last debate and run out the clock.
To win, Trump needs to force a turnover, score a TD, recover the onside kick, score another TD. All while playing with a third-string QB, with no offense to speak of and no answers against the dominant defense of an NFL playoff team. By the time the third debate hits, it'll be the 2-minute warning.
Look to this week for both campaigns to embrace this narrative with their campaign choices.
Clinton will visit every relevant state offering a chance, a Senate seat or a district with a House seat in play. She'll focus on the positive and continue to release ads featuring Trump talking. She's a couple of first downs from the win, and she knows it.
Trump, desperate for any kind of momentum, will increase his pace of lies, up the bizarre nature of those lies and become extremely negative, nasty and offensive. I would be surprised if we go the next month without Trump completely melting down. To keep the football analogy, there will be plenty of Hail Mary passes in the coming month.
You can also expect to see plenty of fireworks from Trump in the third debate. He will likely continue his stream of lies and slander toward both Clintons, right there on national television. She's almost certain to stand there, take the hit, make her point and win the election.
But there is one other path for her to win. If, during Donald's next rambling diatribe about her family, Hillary walked over and calmly punched Trump, she'd gain another 10 percent overnight and win Texas in a landslide.
John Thorpe is a Michigan-based political columnist and Autism rights advocate. He is a registered Democrat who spent most of his life working on behalf of the Republican Party. He can be reached for comment at johnthorpe23@gmail.com or on twitter @FormerGOPJohn.
Posted-In: Donald Trump Hillary ClintonPolitics Opinion General Best of Benzinga
View Comments and Join the Discussion!