Donald Trump Contradicts Himself Yet Again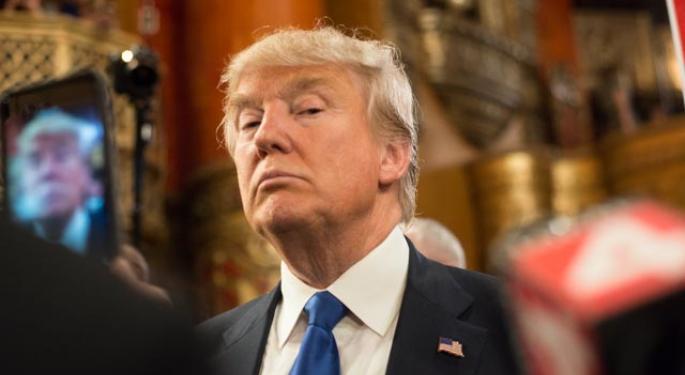 Donald Trump put his foot in his mouth via Twitter Inc (NYSE: TWTR) again.
Back on November 1, 2015, Trump Tweeted, "Jeb's new slogan - 'Jeb can fix it'. I never thought of Jeb as a crook! Stupid message, the word 'fix' is not a good one to use in politics!"
Fast forward to August 25, 2016, Trump Tweeted, "So many in the African-American community are doing so badly, poverty and crime way up, employ,meny and jobs way down: I will fix it, promise"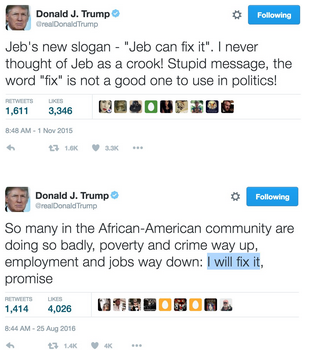 Related Link: Donald Trump Contradicts Himself On Michael Bloomberg
While the message the Republican presidential nominee conveys is welcome, many see it as just another instance of trying to win new voters.
Trump began "directly reaching out to African-American voters for support over the past week and, as a rash of recent polling data demonstrates, he has no place to go but up."
NBC News explained, "Allegations of racism have dogged Trump's campaign from the beginning, when he said undocumented Mexican immigrants were "rapists" during his announcement speech last June. And while Trump has offended Asian-Americans, Latino-Americans, Arab-Americans and Native Americans in the past, his transgressions as far as the black community is concerned could be even more costly come November."
Posted-In: Donald TrumpPolitics General Best of Benzinga
View Comments and Join the Discussion!