Peter Schiff: Janet Yellen And The Federal Reserve Are Losing Credibility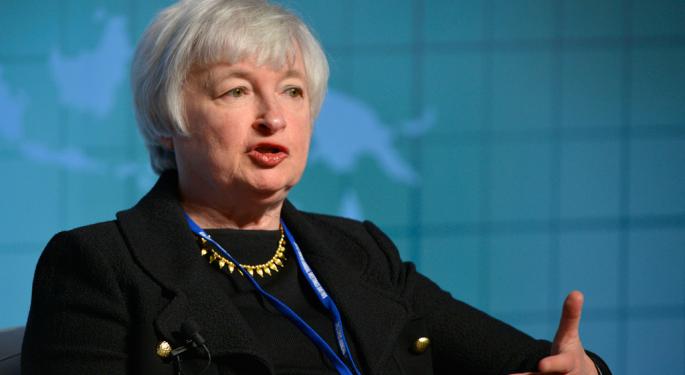 U.S. central bankers decided to maintain the FFR range at 0.25 to 0.50 basis points, keeping the discount rate at 1.00 percent.
While the Federal Reserve did see indicators of a strengthening labor market (along with projections of 4.5 percent unemployment by 2018), not all may be well. The central bank cut its 2016 GDP forecast to 2.2 percent from 2.4 percent previously, and also said global economic and financial developments pose risk for markets.
Fed Chair Janet Yellen spoke for about an hour to discuss the Fed's outlook. However, is the Fed is losing credibility? Peter Schiff thinks so.
"The public knows that the economy is weak (that's why Trump and Sanders are doing well)," Schiff told Benzinga in an email. "But the Fed can't admit it and they are looking stupid as a result."
Related Link: Brusuelas: The Fed Has 'Abandoned' Its Data Dependent Position
Schiff expects increasingly dovish movement as the year goes on, pushing down the dollar.
"Most economists are saying that the current pickup in Inflation must mean that the economy is improving," Schiff said. "To reach this conclusion one must not only ignore the basics of economics but also the very many signs that the economy is currently weakening drastically... The optimistic conclusion is that wages will rise to match price increases. But that is not happening (the last payroll report showed a huge drop in weekly earnings). So what we have is rising prices and flat wages…a terrible mix for consumers."
Schiff said if the Fed were to raise rates in this environment, it would risk igniting a serious recession that would have huge political implications. Instead of risking this, he said, the Fed will continue to say that they want to raise, while hoping the economy will reverse course and strengthen
"But the more likely scenario is that the Fed does nothing while promising to do something," Schiff's email said. "But if the economy weakens further, they will have to officially call of future hikes, and perhaps go back to zero. They will of course have to ignore any additional signs of inflation to do so. When the market realizes that, the dollar will plunge, and non-dollar markets and gold will outperform."
Related Link: Economists React To March Fed Rate Decision
Schiff then highlighted the current decline in U.S. manufacturing would be the first time since 1952 that Industrial Production has declined for four straight months without the U.S. economy not being in recession. A worse-then-expected 0.5 percent month-over-month plunge (near the worst since 2009) led to a 1.0 percent year-over-year drop, the fourth monthly decline.
The market responded positively following the 2 p.m. ET release. The Dow closed at its highest level of 2016 at 17,325.76. The SPDR S&P 500 ETF Trust (NYSE: SPY) spiked sharply following the announcement, closing up about 0.6 percent at $203.39.
Schiff concluded by saying Yellen's biggest loss of credibility today was when she said "April remains a live meeting."
"There is literally no one in the world that expects a hike in April," Schiff said.
Image credit: Day Donaldson, Flickr
View Comments and Join the Discussion!
Posted-In: Janet Yellen Peter SchiffPolitics Top Stories Economics Federal Reserve Exclusives General Best of Benzinga