The Futurist Scorecard: A Look At (Almost) Everything That Interests Elon Musk Besides Building Cars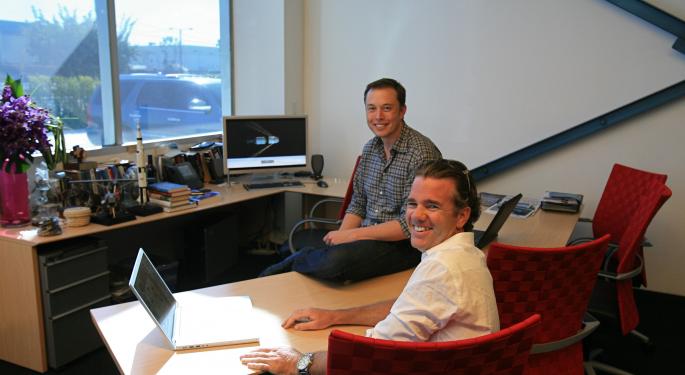 Rocket ships, brain chips, music streaming, autonomous driving, solar power, underground roads with elevators — it might be easier to list all the stuff that doesn't capture Elon Musk's active imagination.
Best known as a car mogul, the founder and CEO of Tesla Inc (NASDAQ: TSLA) has even teased an interest in building an "Iron Man" suit for the Pentagon, a fitting venture for a tycoon who may have a Tony Stark fixation (or vice versa).
When he isn't battling existing state laws requiring carmakers to have a separate dealer network to sell, he's doing other stuff.
Here's a brief tour through the varying interests (distractions?) that constitute Musk's million-dollar musings.
Space
SpaceX succeeded in launching two of its Dragon 9 rockets over a 48-hour stretch last weekend, one to deliver Bulgaria's first telecom satellite on Friday and a second on Sunday. The latter was to deliver 10 satellites for Iridium Communications Inc (NASDAQ: IRDM), which is setting up a global positioning system for commercial aircraft.
Delivering satellites and carrying payloads for NASA to the International Space Station are lucrative priorities — reusing rockets and capsules is essential to Musk's space business model — but he has higher aspirations, such as colonizing Mars.
Cyborgs
The stuff of sci-fi, Musk's people are working on a neural interface that would allow the brain to directly control a computer and, theoretically, everything a computer controls. The venture even has a name — Neuralink, according to the Wall Street Journal. The company, with a target of four years, aims to sell a product for people with brain injuries. It would eventually allow the human brain to connect to cloud storage, turning people into cyborgs with the ability to combat the rise in Artificial Intelligence, brain-for-brain, in a fight for dominance. No, really.
Entertainment
Musk just doesn't want to make autonomous electric cars, Martian colonies and space ships; he wants to get into the media content business, beginning with music.
Recode, quoting music industry sources, said Tesla is in talks with major music labels about licensing a proprietary music service that would be bundled with its automobiles. "This report certainly came out of left field, but at this point, the world should have learned not to be surprised by Elon Musk's seemingly limitless entrepreneurial ambitions," Forbes said.
Food
It's not really Elon, but his brother, Kimbal. A year younger, Kimbal Musk, like Elon, worked for a bit on the family farm in Canada. He's seeking to overhaul the world's nutritional values and the way the food supply is grown, harvested and distributed. "[My brother] told me it was crazy to get into the food business; I told him it was crazy to get into the space business," Kimbal Musk told CNBC. "It's working out fine."
Health
It's telling that sectors that haven't caught Musk's attention (as far as we know) are, well, clamoring for it. Some health experts say if Musk wants to colonize the cosmos, he'd better get going on diagnostic tools, health sensors and 3D-device printing to deal with specialized health care required for humans in space.
E-Commerce
Right, been there. Musk made his first fortune as co-founder of Paypal Holdings Inc (NASDAQ: PYPL), which revolutionized the way people buy stuff online. Moving on.
Cue The Sun
SolarCity Corporation, which seeks to monetize and reduce costs of companies switching to solar energy. The multi-billion corporation, which was founded by a couple of Musk cousins on the advice of Elon, is now owned by Tesla.
Boring
The Boring Company is looking into boring traffic tunnels underground, where elevators would take multiperson vehicles to traffic-lite thoroughfares and transport people on high-speed sleds. Flying cars also are in the mix.
Related Link: Earth To Elon: Musk Wants To Conquer Music
_______ Image Credit: By Jurvetson - http://www.flickr.com/photos/jurvetson/2944375891/, CC BY 2.0, via Wikimedia Commons
Posted-In: BZTVMovers & Shakers Politics Psychology Travel Management Tech General Best of Benzinga
View Comments and Join the Discussion!