Google Comes Roaring Back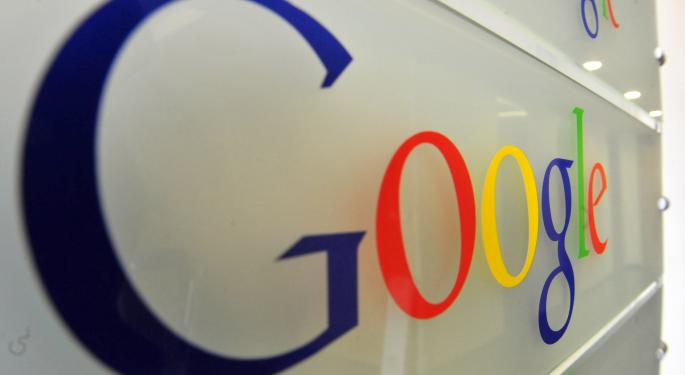 One momentum stock that has been dormant for the last few months has made an impressive move in the last five trading sessions. Google Inc (NASDAQ: GOOG) shares, which bottomed at $500.00 10 days ago, surpassed the $540.00 level in Friday's session.
From mid-November through mid-January, Google was pretty much range bound. It found resistance near $540.00 and support under $500.00 on several occasions. The most recent of these was the string of seven trading sessions from January 7 through January 15, when it made a series of lows from $487.56 to $499.45. The following day (January 16), it bottomed exactly at $500.00 and has never looked back.
Ingredients For The Rally
One factor that has contributed to the strong rally has been the recent rally in the broad market. While Google was in the midst of finding a support level to rally from, so was the broad market. After the bases were formed in both, European Central Bank President Mario Draghi unleashed his version of QE for Europe and the market responded in kind.
In addition to the broad market rally, Google was back in the headline news in a favorable light. It was announced last Wednesday that Google was preparing to become a wireless carrier. This would include selling mobile phone plans directly to customers, as well as manage their calls and mobile data over a cellular network.
Related Link: Earnings Expectations For The Week Of January 26
That news item was the catalyst for just over $11 rally on that same day, as shares rallied from $506.90 to $518.04. The $16.00 rally on Thursday to $534.39 could be attributed to two different factors.
First off, the Street reacted positively to comments by SunTrust analyst Bob Peck, who tantalized the Street with the possibility of a deal between Google and Twitter Inc (NYSE: TWTR). He concluded that it would be a tough deal to get done, but wouldn't say it's off the table.
Secondly, Societe Generale added to the buying frenzy by initiating coverage on Google with a Buy rating and $615.00 price target. Prior to that ratings change, the most recent analyst move was on January 12, when Atlantic Equities downgraded the issue from Overweight to Neutral.
The Street low price target resides with Wedbush, who maintains a Neutral rating and $530.00 price target. The Street high price target can be found at RBC Capital Markets, who maintains an Outperform rating and $725.00 price target.
Earnings To Dictate The Next Move
The catalyst for next big move in Google will likely be provided when it releases Q4 earnings on January 29. The issue has moved $50.00 to over $100.00 based on past earnings reports.
For now, Google is attempting to finally clear the major hurdle at the $540.00 and confirm another leg higher to at least its October 31 ($559.57) and perhaps its October 6 high ($581.00). A string of closes above $540.00 would increase the likelihood of this scenario coming to fruition.
On the other hand, if Google is unable to maintain this level after the $60.00 rally off its January 12 low ($487.56), coupled with an earnings miss, than its two-month trading range may remain in tact.
Shares of Google traded recently at $533.17, down 1.2 percent on Monday.
Posted-In: Technicals Movers & Shakers Trading Ideas General Best of Benzinga
View Comments and Join the Discussion!