Who Let The Bear Out At Goldman Sachs?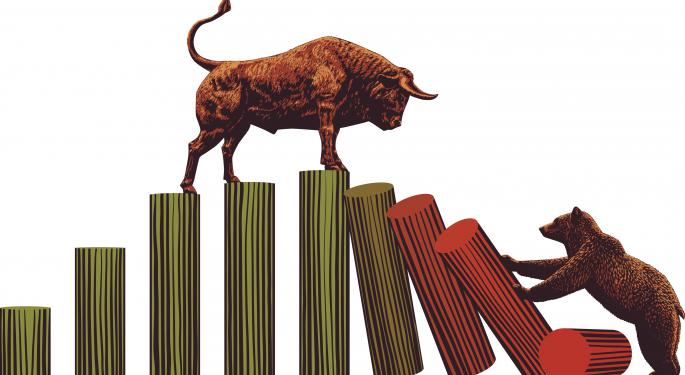 Stocks move for a variety of reasons. For most companies outside the biotech and healthcare sector (which move on drug news) earnings and earnings guidance dictate an issue's future direction.
Besides earnings related information, ratings changes from investment banks can influence an issues price. Of all the investment banks, no company has a bigger impact on issues with ratings changes than Goldman Sachs Group Inc (NYSE: GS).
Related Link: Will The Rally In Tekmira Pharmaceuticals Hold?
Tried And True Veteran Of Wall Street
The company, which was founded in 1859, provides guidance for mergers and acquisitions, underwriting services, equity and commodity research, asset management and brokerage services to its clientele. This includes corporations, governments and wealthy individuals.
With the washout of financial firms during the 2008-2009 crisis, Goldman Sachs and Morgan Stanley (NYSE: MS) were just about the only two that survived. As a result, their influence with ratings changes and market predictions carries major credibility on Wall Street.
Therefore, when the companies releases ratings change every morning, short- and long-term traders take note, since there is no doubt the news may have a profoundly positive or negative impact on the issues being having ratings adjustments.
Many More Downgrades Than Upgrades
On most occasions, Goldman Sachs will issue a mixed bag of ratings. In other words, there will be an equal amount of upgrades and downgrades. However, before Tuesday's unveiling of ratings changes, they released an inordinate amount of downgrades.
In fact, with Tuesday's release, the firm issued more than two times as many downgrades versus upgrades (nine vs. four). The analyst ratings covered a variety of different sectors. Thus, it is difficult to parlay the ratings' changes into a death sentence for the market or one particular sector in general.
The recipients of the upgrades were:
Getting the ax from Goldman Sachs were:
Market Reaction To Changes
A simple look at the price action of the aforementioned issues quickly illustrates the short-term impact of ratings changes from Goldman Sachs. In an extremely volatile day on Wall Street, all of their upgrades were trading higher. Eight of their nine downgrades were in the red at the time of this article being written.
So what should the typical investor learn? Back in the old days, when EF Hutton spoke, "People should listen." Perhaps a modern day version of that might say, when Goldman Sachs downgrades a host of issues on any day, "people should listen" as well.
Posted-In: EF HuttonTechnicals Movers & Shakers Trading Ideas General Best of Benzinga
View Comments and Join the Discussion!