Textbook Technicals In Twitter: The Gap Trade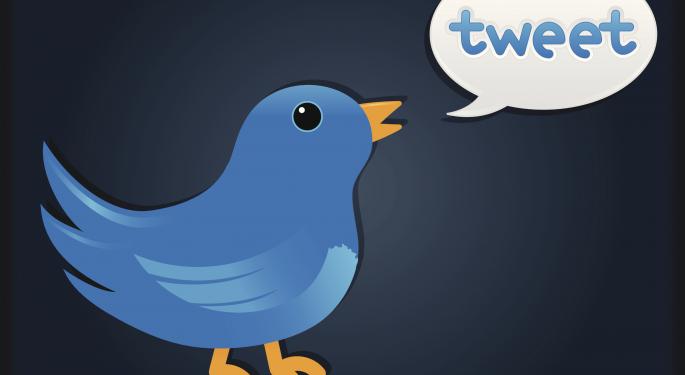 Some investors do not put much faith in technical analysis. However, there are enough investors that do follow it, that sometimes these analytical predictions create self-fulfilling prophecies.
For those who do not follow technical analysis, there are certain moves, shifts or patterns in the market that are more followed than others. These closely watched patterns result in different investor tendencies, all with the end goal of making a profit. One of these tactics is called "filling/playing the gap," in which an investor takes advantage of an area with no price action (the "gap" on the chart).
Dennis Dick, CFA and co-host of Benzinga's #PreMarket Prep attributes this tactic to the fact that price has memory. Dick said, "The more a stock trades in an area, the thicker the stock becomes. But in gap areas, there are very few reference points (because the stock did not actually trade in this area)."
Dick continues, "This means the stock can move through this 'gap area' with a bit more ease."
Related Link: Fari Hamzei Correctly Predicts S&P 500 Reversal After Alibaba
Twitter's Recent Gap Action
For example, Twitter Inc (NYSE: TWTR) has recently experienced gap action. Twitter gapped July 30 from its last session's $38.92 high, making a low the following session at $45.65. The catalyst for the explosion in price was better than expected Q2 earnings, $0.02 versus $0.01 for EPS.
The original group of traders that were banking on Twitter retreating to $38.92 were disappointed. After a slow drift down to $42.51, Twitter regained its footing and rallied all the way to $55.99 by October 9.
After the recent market decline, Twitter was unable to rally back with the same vengeance as the broad market. The reason for this being perhaps that investors may have been worried about the company's Q3 results.
When the company released in-line earnings but failed to impress on growth metrics, the bottom fell out and Twitter shed nearly five points from its October 27 close ($48.56 to $43.78) the following day. From that level, it began to drift lower, but encountered a host of buyers in the $40.00 area. Whether or not it was shorts covering ahead of the potential filling of the gap or new longs entering the market is yet be determined.
Traders Were Prepared And Had Bids In Place
Finally, when that support was breached on Monday, with a low of $39.42 and a close of $39.59, the stage was set for the July 27 gap to be filled. On Tuesday, as new longs at the $40.00 area tried to wiggle out of their positions, the shorts became more aggressive and nudged Twitter to $38.81. Thus, filling the gap that resulted from the price activity from July 27.
From here, Twitter rallied smartly off that level for the remainder of Tuesday's session and reclaimed the $40.00 level in Wednesday's session. It closed at $42.54.
Looking Forward
Bulls will argue now that the gap has been filled, Twitter will establish support ahead of that level and reverse course. So far, that scenario is still intact as Twitter bottomed at $39.60 in Wednesday's session and is back over $40.00.
Bears, such as Fari Hamzei of Hamzei Analytics, does not put much emphasis on the gap being filled and is not convinced the down move is complete. He commented on Wednesday's #PreMarket Prep that he is not particularly interested in Twitter at its current level.
"There may be some more work to do on the downside, perhaps if it returned to the $34.00-$36.00 area and stabilized, it may provide a better entry point," Hamzei said.
Posted-In: Benzinga PreMarket Prep Dennis Dick Fari Hamzei Hamzei AnalyticsTechnicals Movers & Shakers Trading Ideas General Best of Benzinga
View Comments and Join the Discussion!